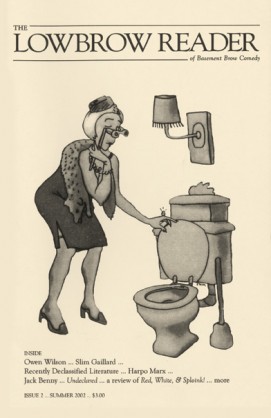 Crazy & Obscure
Trikont is an independent label that began as an offshoot of an anarchist bookstore in München, Germany. It has put together some of the most adventurous and wide-ranging various-artists collections of any record company in the world, due in equal parts, one imagines, to more relaxed German copyright laws, the obscurity of its source material, and a genius licensing department. My two favorites are both ostensibly good for comedy, but as it turns out, American Yodeling 1911-1946 is a conscientious survey of early country and blues records featuring yodels — genuinely entertaining, though hardly a barrel of laughs.
The other record is a different story altogether. Part of the six-volume Flashbacks series, Novelty Songs 1914-1946: Crazy & Obscure is one of the most shameless albums ever put together. For one thing, the tunes are amazingly catchy: Most of these jokes started as songs rather than the other way around, and only a couple — the Viennese Seven Singing Sisters' a cappella deconstruction of "The William Tell Overture"; Spike Jones's fad-puncturing "Ta-Hu-Wa-Hu-Wai (Hawaiian War Chant)" — were previously well-known. Moreover, at least as far as pop culture was concerned, these songs date from a time when irony was something you did on Mondays, after the wash had dried on the line. This stuff is boffo, boisterous, waggish.
It is also varied: One can listen to all 72 minutes without exhaustion setting in, thanks to the equal footing given silly songs by serious artists and the portfolio expansions of comedian-firsters. It sets familiar cuts in perspective — the Andrews Sisters' "Boogie Woogie Bugle Boy" is such a time-capsule piece by now that it's easy to forget how deliberately comic it is. And nearly everything hits its target — societal, farcical, especially musical — like a well-aimed cream pie.
—Lowbrow Reader #2, 2002