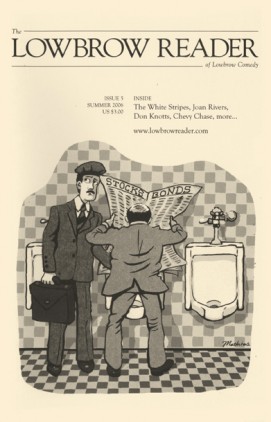 Joan Rivers: A Bitch in New York
[Article and illustration from Lowbrow Reader #5, 2006, and The Lowbrow Reader Reader book, 2012.]
For years, the most engaging and outrageous stand-up comic in New York City has not been some downtown wunderkind, pie-faced and aloof, but rather a shrill old woman with a famously plasticized visage and the moral compass of a third world dictator. We are writing, of course, about the fabulous Joan Rivers who, in the twilight of a remarkably durable career — in the course of a single set, she might refer to herself as being 70, 75 and then 73-years-old — has struck an unlikely and in many ways unprecedented creative stride.
Rivers is increasingly known best for her role grilling celebrities at the red carpet arrivals of award shows, alongside her daughter Melissa. She also sells tacky jewelry via the Internet. But it is as a stand-up that Rivers emits the unmistakable glow of a world-class performer; this is particularly so when she has a suitable audience. Until the club was shuttered last March, her favored home base of the last few years was Fez Under Time Cafe, a snug cabaret space situated in the basement of a Moroccan restaurant downtown. Lowbrow observed a number of these performances, including a series during the club's final month.
At Fez — or "this dump, Fez," as the comedian lovingly tagged it — Rivers's audience was split roughly evenly between Long Island yentas and Chelsea homosexuals. It is difficult to imagine two groups more compatible with Rivers. Both are catty, brash, obnoxiously loud and eager to mock themselves. Most critically, each demographic, at least on the surface, demonstrates that rare gift to such a comedian: utter ethical bankruptcy. The comedian seized this offering with the appreciation of a freshly released inmate biting into his welcome-home dinner.
While Rivers's set differed from show to show, she would return habitually to a series of topics. One was Michael Jackson: "Millions of dollars for one night with Michael Jackson?"* she would say. "Achhh! If only I had a son, I'd send him straight to Neverland." Here, her voice would assume the hectoring tone of a mother forcing her child to visit a relative: "You bend over and do this for mommy!"
Perhaps her funniest joke revolves around Melissa who, Rivers would inform the audience, was offered $500,000 to pose for Playboy but turned the magazine down. "The nerve of that bitch!" Rivers roared. "She's been divorced for three years and I'm still paying off her wedding. I'm 75 fucking years old, standing on a red carpet saying, Who are you wearing? Who are you? $500,000, and she turns it down?!? Pull down your pants and show them the pussy!"
Week in week out, however, the touchiest subject would be the comedian's evocation of September 11th. As soon as Rivers said the words "World Trade," the yentas would begin a knee-jerk hiss — a sound clearly relished by the performer, who has a rotating stable of jokes about the tragedy. In one, she wonders: "If you knew what was going to happen on September 11th — who would you invite to breakfast at the World Trade Center? Eggs benedict… Windows on the World… It'll be our make-up brunch!" Her more common punch line revolved around 9/11 widows, a group she deemed among the most fortunate in New York. "What would you rather have?" she inquired. "Six million dollars — or a man lying next to you in bed farting, with a big fat stomach and his balls lying out?"
Other topics might include Lizzie Grubman ("a blond angel who wants to rid the Hamptons of white trash"); Helen Keller and Anne Frank (both disparaged as "whiners"); Rosie O'Donnell (whom she impersonates coming out of the closet by squatting into a Neanderthal pose, thrusting a bony finger at the audience and mannishly grunting "I got a surprise for you"); and whoever was sitting in front of the stage (one young woman was informed that her engagement ring was acceptable for goyim, but "swimming jewelry" for a Jew).
Mostly, the gays would swallow it all with trademark irony — after all, a drag act like Kiki and Herb can be nearly as nasty — while the Long Island women would nod their frizzy heads in accord. What's fuzzy is where Rivers herself stands. The comedian has given herself an outer shell of exaggerated wickedness: Her notorious appetite for plastic surgery has lent her face a permanent air of diva pride and disdain. She celebrates stealing, avarice and wearing fur. She insists that only a fool would marry for love. ("You want an orgasm?" she says. "Marry a rich old troll and wait for him to say, 'Do you want mink or sable?'") During her performances, she professed a hatred for the Chinese, American Indians, old people, fat people, poor people, blind people, the Olsen twins and a man in the audience who said he didn't watch her at the Oscars. And while Rivers claims not to have voted in the last presidential election — based on the science that both candidates had ugly daughters — she says she became a Republican when Amy Carter wore glasses at her own wedding.
Yet we remain suspect of this wonderful comedian's dubious integrity. Proceeds from her weekly set at Fez, where she unleashed her vitriol for over three years, were donated to two charities: Guide Dogs for the Blind and God's Love We Deliver, a service which brings meals to AIDS patients. Rivers vented about the recipients of both charities: No blind person ever poked her with a cane and said "thank you," while, because of advances in medicine, the AIDS patients she was helping were refusing to die. ("I've been delivering dinner to the same fucking asshole for three years," Rivers would cry. "And he's getting fat!")
It should be noted that this woman, so eager to denounce sentiment and weakness, lost her husband to suicide in the '80s. Naturally, she has a whole catalog of jokes about her tragedy. How could she not! Put into this context, the foul-mouthed widow may remind many of another famous brat: the great Courtney Love. Both performers are shrewd, spiteful blondes, plastic and proud, with the astuteness to recognize the word "bitch" as a compliment. Each has a captivating stage presence, teetering between domineering control and rambling chaos.
Once, during her Fez show, an audience member asked Rivers about Courtney Love. (This was soon after the rock star's week of infamy in New York, when she exposed herself to both David Letterman and diners at a local Wendy's.) The comedian praised the singer for killing her husband and getting away with it, then declared Love's situation "very sad." It is tempting to revisit an old cliche about crying comedians. It is that much more alluring, however, to hope that Rivers was speaking with customary irony.
* Miss Rivers's phrasing changed from week to week; we have stuck to her exact words as much as possible, but many of the quotations here are paraphrased.
—Lowbrow Reader #5, 2006
(Also included in our book, The Lowbrow Reader Reader,)