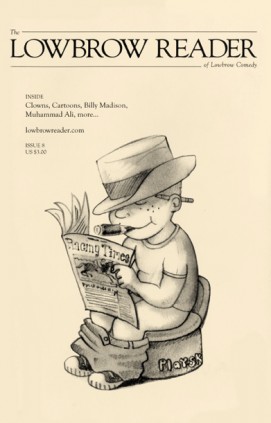 In 1996, soon after Muhammad Ali lit the torch to launch Atlanta's Olympic games, the boxer met with novelist Gilbert Rogin in New York City. Rogin -- a former Sports Illustrated editor who covered Ali early in both men's careers -- wrote the following account.
ME AND ALI
Seriously, Folks
Sitting on a couch in a midtown Manhattan hotel suite, the Champ seems to have fallen asleep, just like that, chin on chest, eyes shut. Now he's snoring big-time.

Seriously, folks….
Lonnie Ali, the Champ's wife, says, "Muhammad's very comfortable with himself, isn't he? Now he has a condition. He has flashbacks. Some form of narcolepsy."
As if on cue, the Champ begins throwing baby hooks in his sleep.
Suddenly he erupts, roaring, lunging at me like a spectral contrivance in the Tunnel of Love. "He was faking it!" I shriek.
"He's always faking it, isn't he?" Lonnie says.
"He hasn't changed," I say.
"Still a baby," Lonnie says, "still spoiled, still rotten."
Seriously, folks, this is Muhammad Ali, at 56 conceivably the world's preeminent humanitarian, who last year was honored by, among others, Amnesty International, with its Lifetime Achievement Award, and by the U.N. as its Messenger of Peace.
Commercial Break
The Champ is available for card shows and has a very attractive line of ties and boxer shorts.
The Smile
The Champ may also be the world's most famous person.
"Did you know that?" I ask him.
"Try not to think about it because it'll make your head big," he says.
I say, "You got a big head anyway. Look at the size of it."
Getting back at him for scaring the shit out of me.
The Champ smiles. Unlike most people, who narrow their eyes when they smile, the Champ opens his wide, almost popping them, and his cheeks swell wonderfully and somehow take on a rosy glow, as if a bulb had lit up inside his mouth.
His Sense of Humor
"What did Abraham Lincoln say after a two-day binge?"
"O.K., what?"
"'Free who'?"
Lonnie says, "Muhammad's never been politically correct. And he never will be."
"'Free the who,'" the Champ says, cracking himself up.
No way I'm going to tell you the one about the Jews and the canoes.
Back in the Day
I've known the Champ since 1961. I looked it up. Unlike most of us, he's had the kind of life you can look up. Feb. 7, 1961, Slim Jim Robinson, Miami Beach, TKO 1. Then, of course, he was Cassius Clay. Some of us couldn't make the transition, so Champ is what we call him, which he was, is, forever will be.
At first, he was up on his toes, hands by his sides, big man dancing, nobody touching him. He simply wasn't there as, in Atlanta, so many years later, he was suddenly, omnipotently there, entrusted with the torch, fulfilling our unrealized longing.
Then he was flat-footed, taking shots. Then he wasn't coming out of his corner for the 12th round. Oct. 2, 1980, Larry Holmes, Las Vegas, TKO by 11. Then he got Parkinson's. Lonnie (wife No. 4 who bore him child No. 9) lived across the street from him in Louisville and had worshipped him since she was 6. "And then she grew up," the Champ was saying, marveling. And he drew an hourglass in the air. "Except now he likes blondes," Lonnie said.
The Low Five
The Champ makes to give me a low five. I extend my hand, palm up. He swats and misses. At first, I feel sorry for him. Upon reflection, I realize the Champ didn't make contact because my hand was in the wrong place. I move it an inch to the left. Awwright!
The Kiss
"We've taken up enough of your time," I say, getting up.
The Champ applauds. Chochem. Then he says, "Did you get a good interview?" Sweet man.
When I get to the door, for some reason I turn and look back. That's what we're doing nowadays, the Champ and I, looking back, seeking a lot of things, finding a few, I guess. Whatever, the Champ is standing in the middle distance. He gently raises his right hand to his lips, blows me a kiss.
When Ali materialized in Atlanta, lit the Olympic flame, it's safe to say he moved the world, many to tears. For my part, I smiled — and exhaled. I was so proud of him. He was so still, serene, dignified. And he didn't drop the fucking thing!
I've written so much about the Champ that sometimes I think I've made him up, if you know what I'm saying. Can't make this up: When Ali softly
blew me that kiss, his hand moving so slowly over so short a distance from his mouth to where he let it flutter and gently fall, I started to cry at last. Got me again.
—Lowbrow Reader #8, 2010. Also included in our book, The Lowbrow Reader Reader (Drag City, 2012).
Illustration by Jackie Gendel