KC Nights
Members of the chattering class will spend October curled in fetal position, their only human contact coming in the form of a Guatemalan pizza deliveryman, growing fat and sloppy as they binge-watch this enigmatic drama. KC Nights features an ensemble cast that includes seven Oscar winners, two rappers/business moguls, and at least one retired Pope. The show displays all the hallmarks of the great American novel, only it is more literary and novelistic. Is there a character outside of Shakespeare's stronger works as rich with torment as Detective Lincoln Gibb, about whom we know less with each passing episode? The whole series hurtles toward a climactic finale that you will not understand. Note that KC Nights airs on neither broadcast television nor cable, but rather an Internet streaming service that is thoroughly incompatible with the rest of your home entertainment system.
Street Vikings
Critics are agog over this urban crime drama, which resembles not a traditional TV program so much as a masterpiece from the golden age of film, if only Valentino had talked onscreen and frequently employed the N-word. The series airs on an obscure cable network that was originally devoted to skeet shooting and now, for some reason, focuses on Street Vikings plus a portfolio of comparable, yet somehow unwatchable, shows. As it will cost $92 per month to add the channel to your cable bundle, wait a year and catch Street Vikings via download or DVD. In order to avoid spoilers, be sure not to go on the Internet during that period. Also, be advised to steer clear of the DVD commentary, in which you learn that all of the show's fearsome street toughs are portrayed by effete British stage actors with Etonian accents and appetites for Pinter.
America's Next Judge
You can give your mind a respite from the cerebral glories of modern television by visiting a ballet or art museum, or simply by digesting some old-fashioned network filth. America's Next Judge finds six of the world's top-grossing pop stars living together in a tacky mansion and competing in a series of increasingly inane games. All are vying for the dream job that will prove their ticket out of a tedious life touring stadiums before adoring fans: judging amateur singers on a televised talent competition. Who will get to sit in the chair of judgment alongside Lil Wayne and the Honorable David Souter? Consider yourself a paparazzo with his job on the line and America's Next Judge Pippa Middleton's compost bin. This reality show is garbage at which you cannot stop staring.
The Kingdom
Virtuosic show runner Adam Kirshenbaum swore off television after his last series got burned off in a time slot traditionally reserved for producers involved in cuckolding the network brass. But after slumming it in film—winning three Palm d'Or awards—he has returned to this more sophisticated medium, bringing rapid repartee and rampant nudity to 16th century Portugal. Kirshenbaum's contract shields The Kingdom from any meddling by Hollywood suits, stipulating that no executive is permitted to watch an episode until two years after its air date. See the show that the CIA is currently smuggling into Syria, reasoning that once the entire populace is obsessing over plot twists, they will have no energy left for fighting. Remember that The Kingdom is viewable only via a video game console—to watch, befriend somebody with a teenage son.
This Can Happen to You, Too!
This cult comedy details the behind-the-scenes goings-on at Wealthy Mike, a fictional '80s sitcom about a petite 9-year-old who is swept away from a life of shameful poverty when he is adopted by a fun-loving millionaire. The title refers to the idiotic catchphrase from the show-within-the-show, which is supposedly ghost-scripted by Donald Regan. This Can Happen to You, Too! features frequent cameos from Hollywood celebrities, gamely lampooning their images in the most degrading possible fashion. Hobbled by dismal ratings, the series was abruptly canceled midway through its first episode, only to be reinstated after its heartbroken fans protested by self-immolating inside the juice bars frequented by network honchos, and also by launching a campaign on Twitter. In its revived form, the full program airs strictly on the coasts, while only Wealthy Mike, the ghastly show-within-the-show, runs for the ignorami said to reside in flyover states.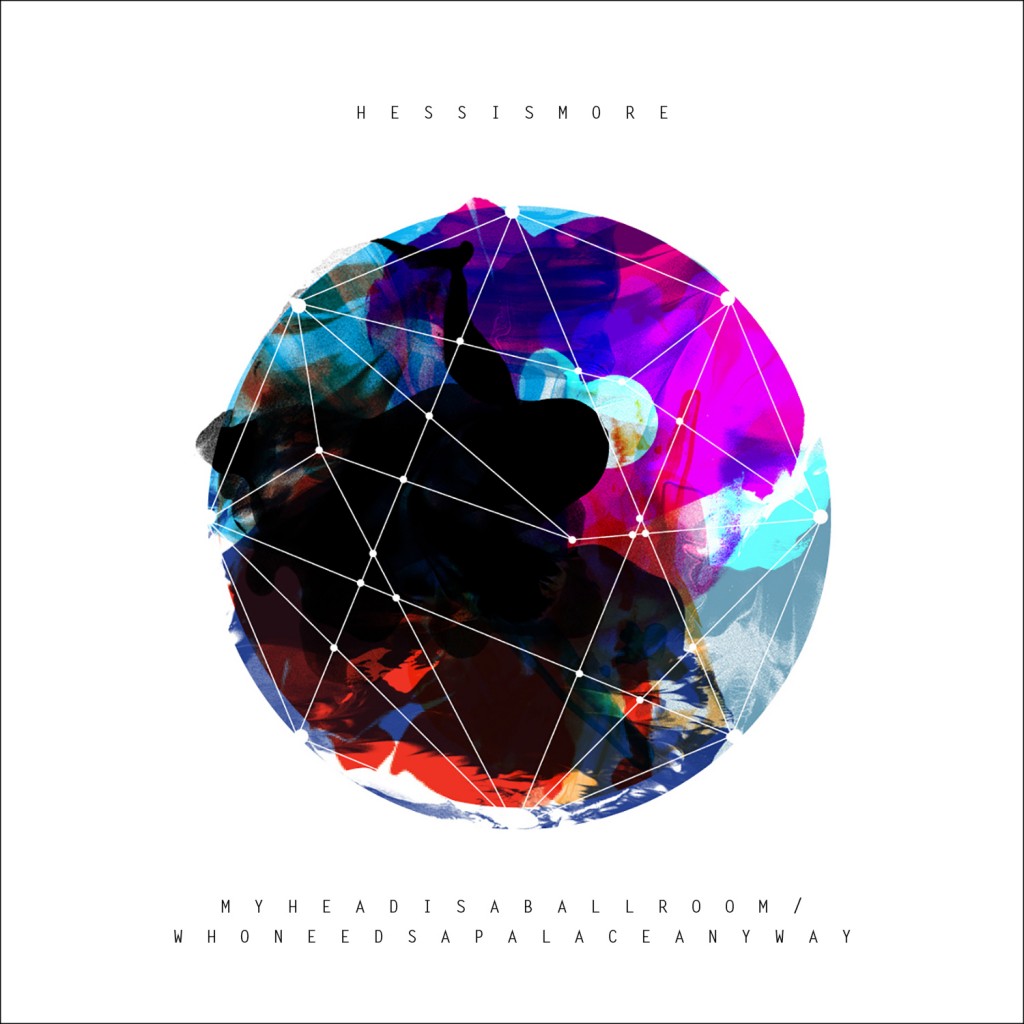 Sure, in the most strict, technical sense, 2014 has some life remaining in it. But unless Redd Foxx transforms into a zombie and crawls from his profanity-strewn Las Vegas grave wielding Funky Tales from a Dirty Old Junk Man II, we have our album-of-the-year candidate: Myheadisaballroom / Whoneedsapalaceanyway, by the NYC/Copenhagen aggregate Hess Is More. Or perhaps it's Hessismore—lord knows what the space bar did to this band, but it must be both personal and vicious. The album, released as a joint venture by This Is Care Of and Concierge Records, is the latest of several orchestrated by the drummer and singer Mikkel Hess. Yet Ballroom marks the first Hess album to spotlight the commanding New York band that has gathered around the musician in recent years. Like all smart New York entertainers, the Hess players are veterans of the Lowbrow Reader Variety Hour, having performed at our 2010 Housing Works Bookstore concert. Furthering our connection, Lowbrow Reader editor Jay Ruttenberg contributed liner notes to the album. What's not to love? Order the record today!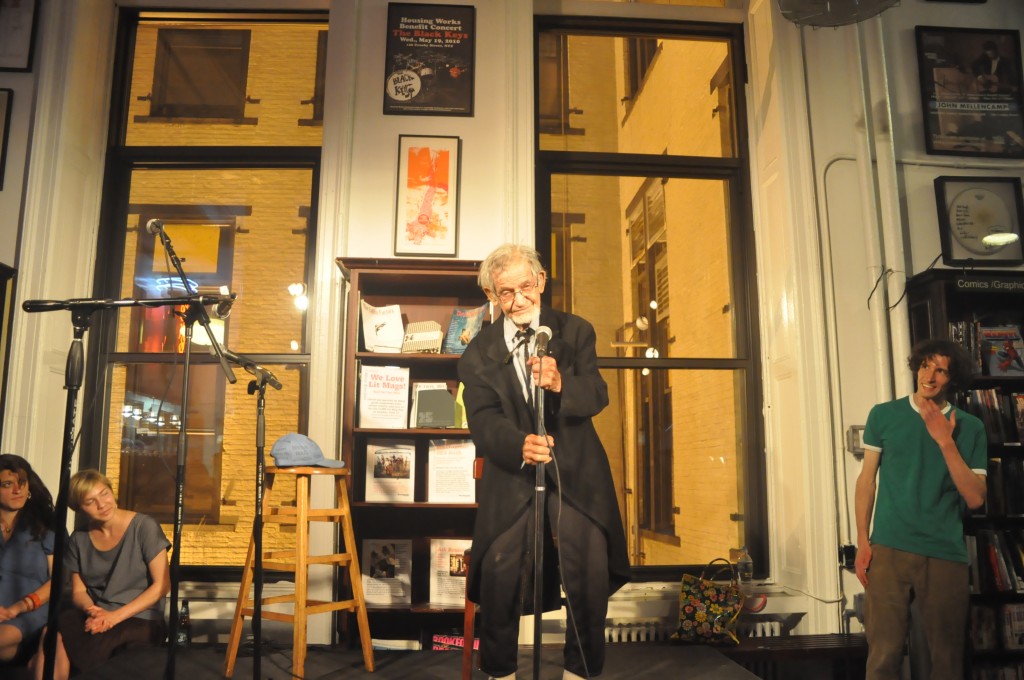 Wondering why banks are closed today, mail delivery is canceled, and fireworks are lighting up the North American sky? A glance at your calendar should clear everything up—it's July 29. That's right, it's Professor Irwin Corey's birthday! In fact, not only is it July 29, but it happens to be July 29, 2014, which means it is Professor Irwin Corey's 100th birthday. We salute the New York comedian and Lowbrow Reader friend while wishing him another century of mischief. Read all about Professor Corey in the new Lowbrow Reader issue (in our Gilbert Gottfried article). Above is a picture of Corey (by Sam Johnson) performing at The Lowbrow Reader Reader book release show in 2012, when he was a young whippersnapper of 97.
We are thrilled to announce the publication of our new issue, Lowbrow Reader #9. It is the first Lowbrow Reader to hit stands since Drag City published our book anthology, The Lowbrow Reader Reader, in 2012. Order the issue today via our handy ordering page!
Lowbrow #9 will set you back $4, shipping included. Is it worth it? Come on! Check out the Table of Contents: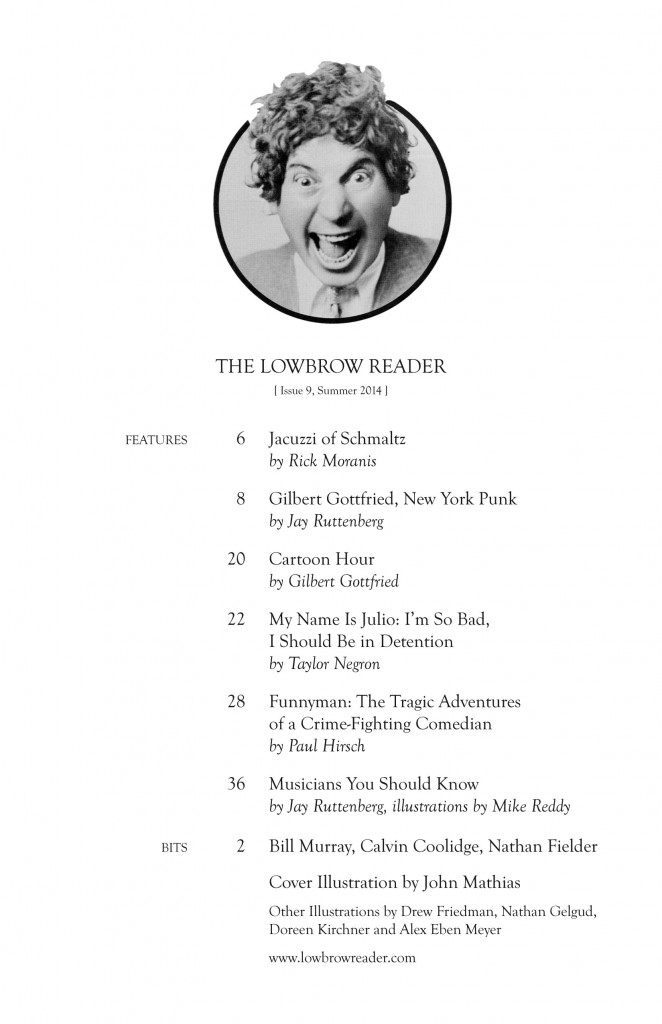 Let me begin with the service, which is abysmal. On more than one occasion, I have arrived at the establishment to find our table unprepared and cluttered. More appalling, during these same visits, the kitchen staff has charged myself and a fellow diner, Caitlin, with clearing and setting the table ourselves. Often, upon a dinner's completion, patrons are tasked with bussing their own dirty dishes and aiding the dishwasher—a harried man who works at the beck and call of the chef. The simple rituals of this job seem to lie beyond his apparently limited capabilities.
The menu, while broad, varies in quality. As each night's fare is decided upon by the chef, be wary in planning your visit. Spaghetti, the lone dish of Italian origin, is served with a frequency bordering on the lazy. It is cooked al dente, with an uninspired meaty sauce that reads as distinctly inauthentic, yet passes muster. Be sure to add extra gobs of Parmesan cheese to the dish, though only if the chef allows you to do so and/or is distracted with other matters. The tacos, cooked with a spicy Tex-Mex twist and served buffet style, are more satisfying. Do try the guacamole, a house specialty. And don't dare miss the signature dish: cheeseburgers, a seasonal favorite prepared by the aforementioned dishwasher on an outdoor grill and, thus, served only during warmer months.
Note that the kitchen is inconsistent when addressing dietary restrictions. For instance, during the two-month window that Caitlin was experimenting with vegetarianism, her eating habits were painstakingly accommodated. On some nights, the prix fixe menu was even altered, so that her fellow patrons were forced to forsake meat and poultry against their will. However, during the same period, when a second, smarter diner announced to the wait staff that he would be eating only those foods derived from the chocolate family, his diet was dismissed out of hand and even mocked.
On a similar note, be mindful of the establishment's quirks. I can think of no other local eatery that forces its patrons to fully consume a (revolting) side of brussels sprouts before being allowed to proceed to the dessert menu. Despite much vehement lobbying from the clientele against this monstrously unfair edict, it seems likely to stand.
The atmosphere is homey and quaint, and the dress code decidedly lax. On religious holidays and other select evenings, patrons are served hors d'oeuvres—standard issue cheese platters, crackers, and dips—before retreating to a more formal and rarely used dining room. On these occasions, a sommelier, Uncle Donny, is present. He is knowledgeable in all matters of wine, beer, and liquor, much to the dismay of the chef.
Some words on sanitation: Whether or not the kitchen is up to code remains in doubt. The proprietors have flagrantly neglected to display a lettered grade, which is an odd development in light of their excessive concern regarding the grades received by others. Were a sanitation inspector to visit the premises, he would encounter a Labrador retriever freely roaming both cooking and dining areas; Caitlin and her annoying friend Stacy refusing to wear shoes or socks while eating; and a cook who dons neither hairnet nor disposable plastic gloves. So eat at your own risk.
Although getting a table is never a problem (reservations are not required), the kitchen's hours of operation prove erratic. At times, it seems as though service depends entirely on the schedule of the dishwasher, who works a second job. Furthermore, the chef—who has the volatile temperament of many in her trade—is known to erupt at those patrons who drift into her kitchen seeking chocolate appetizers while dinner is being prepared. Indeed, despite the odd culinary triumph, the inherent lack of professionalism from the staff makes it difficult to recommend frequenting the establishment at all.
The prices, however, are quite reasonable.
There are some lovely art shows in New York this season: Gauguin at MoMA, Bill Cunningham's Facades at the New-York Historical Society, and the final Whitney Biennial before the museum makes like a New Jersey woman searching for pumps and heads to the Meatpacking District. But as far as we can tell, only one art show exhibits portraits of Joan Rivers and Professor Irwin Corey, and that is Drew Friedman's Old Jewish Comedians, at the Society of Illustrators. The exhibition draws from Friedman's mind-blowing Old Jewish Comedians book trilogy, published as part of Fantagraphics's Blab! series—read an interview with Friedman about his old Jews from The Comics Journal, conducted a few years back by Lowbrow editor Jay Ruttenberg. Alongside Friedman's original artwork for the books, visitors to the Society of Illustrators can view the artist's personal collection of ephemera related to the Hebraic funnymen. On second thought, who cares about that hack Gauguin? This is the art show to end all art shows!
The Old Jewish Comedians exhibition is on display until May 3. The best time to drop by, however, is Thursday, April 24, at 7pm, when the Society of Illustrators hosts a related panel, "From the Borscht Belt to Seinfeld: The Evolution of Jewish American Comedy." Panelists include Friedman himself plus Edward Portnoy (a Yiddish language and literature and specialist, as mandated by his surname); comic actor Larry Storch (F Troop); and sitcom writers Bill Persky (That Girl) and Tom Leopold (Seinfeld). Friedman and Storch will sign copies of Friedman's Old Jewish Comedians books. Order tickets at societyillustrators.org.
"You probably don't recognize me with pants on."
"Did you get all the pictures of everything I ingested today?"
"What do you mean you don't like being tickled?"
"Want anything from the coffee shop across the street? I'm heading over there to defecate."
"Let's role-play True Detective during sex. I'll mumble a bunch of things and you can ignore them."
"I'm in the process of lasering all the hair off my body."
"Do you think your apartment is large enough for us to raise a child?"
"Can we address quiffing real quick?"
"So, should I count you in for all holiday dinners?"
[Post sex] "Way to go, champ." [Motions for a high-five.] "Up top!" (more…)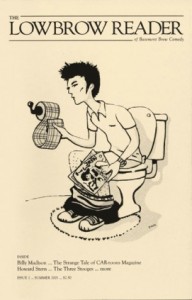 Just what is going on at Lowbrow Reader HQ? Good question! Our book anthology, The Lowbrow Reader Reader, was published by Drag City back in 2012. Sorry to report, we won neither the Pulitzer Prize nor National Book Award—shame on you voting committees, what with your petty unwillingness to accept bribe money! But honestly, only a complete nudnik wouldn't dig this book. Just check out what the Chicago Tribune, Entertainment Weekly, and the New York Times had to say on the matter.
Still don't believe us? Ah, hell—just read the book and see for yourself!
And what of the eight issues that preceded The Lowbrow Reader Reader? Most issues sold out long ago, but you can still purchase copies of Lowbrow Reader #1, #3, and #5, via our ordering page.
Yet in the immortal words of Lowbrow friend and contributor Gilbert Rogin, What happens next? Will the heretofore underwhelming 2014 turn itself around and prove the year of further Lowbrow Reader print activities? Will there be a Lowbrow Reader #9? Watch this space! In the meantime, do yourself a favor and purchase a Lowbrow Reader book or back issue today!
West Coast CEO Addressing Shareholders
Menacing Drifter
Undercover Policeman in a Cop Show, Purchasing Drugs
Suburban Dad on the Weekend, Clinging to Long Lost Youth
Fourth Grader, Clinging to Third Grade
Young Brooklynite on a Big Date
Off-Duty Professional Athlete, at Rest by Mammoth TV Set
High-Fiving Twentysomething in Smart Phone Commercial
Standup Comedian, On or Off Stage
Celebrity Pretending to Hide from Paparazzi
Paparazzo Pretending to Hide from Celebrities