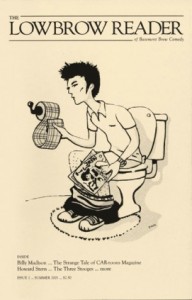 Just what is going on at Lowbrow Reader HQ? Good question! Our book anthology, The Lowbrow Reader Reader, was published by Drag City back in 2012. Sorry to report, we won neither the Pulitzer Prize nor National Book Award—shame on you voting committees, what with your petty unwillingness to accept bribe money! But honestly, only a complete nudnik wouldn't dig this book. Just check out what the Chicago Tribune, Entertainment Weekly, and the New York Times had to say on the matter.
Still don't believe us? Ah, hell—just read the book and see for yourself!
And what of the eight issues that preceded The Lowbrow Reader Reader? Most issues sold out long ago, but you can still purchase copies of Lowbrow Reader #1, #3, and #5, via our ordering page.
Yet in the immortal words of Lowbrow friend and contributor Gilbert Rogin, What happens next? Will the heretofore underwhelming 2014 turn itself around and prove the year of further Lowbrow Reader print activities? Will there be a Lowbrow Reader #9? Watch this space! In the meantime, do yourself a favor and purchase a Lowbrow Reader book or back issue today!
West Coast CEO Addressing Shareholders
Menacing Drifter
Undercover Policeman in a Cop Show, Purchasing Drugs
Suburban Dad on the Weekend, Clinging to Long Lost Youth
Fourth Grader, Clinging to Third Grade
Young Brooklynite on a Big Date
Off-Duty Professional Athlete, at Rest by Mammoth TV Set
High-Fiving Twentysomething in Smart Phone Commercial
Standup Comedian, On or Off Stage
Celebrity Pretending to Hide from Paparazzi
Paparazzo Pretending to Hide from Celebrities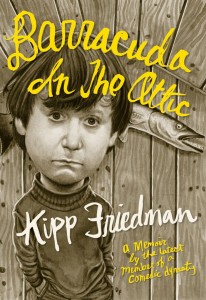 My favorite bookstore in the Chicago area was always Bookman's Alley, a coiling space tucked into an Evanston alley, in the shadow of Northwestern University. It resembled a sleepy intellectual's living room—the Strand, as if run by WASPs. For years, the store seemed on the brink of closing (and now appears to be shuttered) and whenever I was in town to visit my parents I would stop in, sniffing out bargains. At some point, for reasons unknown, I fell into a routine of buying books by Bruce Jay Friedman while in Bookman's Alley. This can happen—you buy your Randy Newman LPs at this record shop, David Bowie albums at that one—and over time, I suspect the proprietor took note.
"You know, Bruce Jay Friedman's son came to the store for an event for his own book," he told me.
"Ah, yes—Drew Friedman," I said, speaking of the illustrator. "His work is mind-blowing. Howard Stern claims he is better than Picasso."
"No," the store owner said, "Josh Alan Friedman, the writer and musician. He's great." Indeed, I had the wrong Friedman.
A few months later, I was in Chicago once more and returned to the store for another Bruce Jay Friedman. "You know," the clerk said, "we have some books by his son."
"Of course," I said, now wise to the man. "Josh Alan Friedman."
"No," the clerk told me. "Drew Friedman—the illustrator."
"Hmph," I muttered. "Talented family."
Complicating matters further, we now get Barracuda in the Attic (Fantagraphics), a charmed memoir about growing up the son of Friedman. And this book is by Kipp Friedman—the youngest of the three brothers. The book features a cover illustration by Drew Friedman, a foreword by Bruce Jay Friedman, and an afterword by Josh Alan Friedman. The author has a light, graceful touch. This is not a memoir to settle scores or search an author's soul—Kipp Friedman writes as much about his older brothers as he does about himself. Many of its best patches depict the celebrity culture of 1970s New York and Hollywood, as witnessed through the eyes of a child or teen beamed into the world of his father. Often, the three brothers are seen as young hellions, at war with saner adult forces in Long Island and Manhattan. Pity the dupe who crosses paths with the trio.
Kipp Friedman, who lives in Milwaukee, will be in New York for readings at KGB Bar December 14 and 2A Bar December 16. In anticipation, the author answered  a few questions about Barracuda in the Attic via e-mail: (more…)
In Lowbrow Reader #7, we proudly published "Curb," a poem by the veteran comedian, actor, and writer Shelley Berman that details his work portraying Nat David on house favorite Curb Your Enthusiasm. "Curb" reappeared in our book anthology The Lowbrow Reader Reader alongside a second Berman poem, "The Comedian Jim MacGeorge." Both works were accompanied by lovely illustrations by Mike Reddy.
Shelley Berman has a trail of albums in his wake, including the classic 1959 LP Inside Shelley Berman—the first non-musical recording to win a Grammy Award. Now, the CD-equipped can enjoy Berman's poetry, too: The new audiobook To Laughter with Questions: Poetry by Shelley Berman features the writer reciting "Curb," "The Comedian Jim MacGeorge," and more. The limited-edition, two-CD set comes signed by the poet himself. Order one for yourself, one for your illicit lover, and one for your cuckolded spouse. Check it out at shelleyberman.com!
June 12, 1942
I hope I will be able to confide everything to you, Dear Diary, as I have never been able to confide in anyone, with the exception of Hans, Horst, Franz, Gerhardt, Ludwig, Rolf, and Johan.
June 20, 1942
Writing in a diary is a really strange experience for someone like me. Not only because I've never written anything before, but also because it seems to me that later on, neither I nor anyone else will be interested in the musings of a 28-year-old chorus boy.
July 5, 1942
As we were taking a stroll around the neighborhood square, Father began to talk about my going into hiding. I asked him why on earth I would want to.
"Well, Frank," he replied, "for more than a year, we've been bringing your clothes, food and furniture to the Nudelklangs. Gott in Himmel you should get hauled off to one of those camps and have to sleep ten men to a wooden bed in a barrack holding 900 others and be made to line up naked in front of one another for body cavity inspections of all kinds." (more…)
Honoring his campaign promise, the mayor banishes carriage horses from Central Park. All animals are immediately retired and removed from the city to live out their remaining years in green pastures upstate. Sadly, the drivers have to be euthanized. This development further endears the mayor to animal rights activists.
In a black eye for the stop-and-frisk law, the mayor's son, Dante, is randomly stopped by police while walking near Gracie Mansion. He is searched in all relevant areas: backpack, pockets, Afro. Across the city, New Yorkers are disappointed and appalled after a police report confirms that Dante was found without a trace of marijuana on his person.
Bowing to his Brooklyn constituency, Mayor de Blasio announces plans to convert the West Side Highway into a bike lane. For some reason, biking advocates still seem incredibly angry.
Mayor de Blasio appoints Bill Thompson, his former rival in the Democratic primary, as Counselor to Mayor. Although everybody agrees that he is the most qualified and competent man for the job, and he is the sole candidate, Thompson somehow manages to come in second place.
In a magazine interview, the mayor reveals that he may be the son of Frank Sinatra.
After a review of the Bloomberg administration's application process for massive real estate developments finds it to mirror the scrutiny a person goes through in order to obtain a Twitter account, Mayor de Blasio vows to make some slight changes. Hysterical business leaders threaten to take their commercial interests elsewhere, such as New Jersey, giving everybody in the city a well-deserved chuckle.
Controversy engulfs the administration when it is revealed that, since his election, Mayor de Blasio has skipped several shifts working the register at the Park Slope Food Coop. The mayor promises to make up shifts, but finds his membership in the Coop revoked nonetheless.
Mayor de Blasio belatedly apologizes to Michael Bloomberg for offending him with racist television commercials.
Texas is running out of execution drugs. But don't fear! Here are some proposals for new ways the state can kill their prisoners….
-Inform prisoner that it is taco night on death row. Let prisoner get all excited, since tacos are his favorite. Serve prisoner delicious tacos, but in place of usual hot sauce, give him extra, extra, extra spicy hot sauce. When prisoner gulps down his water and desperately asks for a new drink, hand him a cup of ice-cold gasoline. In his next taco, hide a lit match.
-Have the warden dress up as a prisoner who is impersonating the warden. The warden tells a prisoner in need of execution that it is "escape time." Warden leads prisoner to the warden's office, which the prisoner thinks has been taken over by other escaping inmates. When prisoner arrives at warden's office, he is met by a firing squad.
-Tell prisoner that there is new evidence in his case and he is being set free. Have a big ceremony attended by all of his family and friends. Lead prisoner to the jail gate and give him his old belongings. Just as he is about to get his first taste of freedom, tell him, "Oh, wait—we screwed up. You have to go back to death row, but this time in a much less comfortable cell." As prisoner flops about on the ground from a heart attack, refuse him any help.
-Lead prisoner to execution chamber. Make a big stink about injecting him with "death poison" even though, unbeknownst to him, it is merely his annual flu shot. When serum reaches his veins, turn lights on and off several times, really fast. Have everybody rapidly exit room with the exception of one guard, who is dressed as the Angel of Death. Slowly, this "Grim Reaper" leads prisoner back to his cell through a pitch black prison. The next morning, the prisoner wakes to find his fellow inmates dressed not in their prison uniforms, but as ghosts. Continue this ruse until prisoner dies of natural causes.
A cherished query of bullies across the globe, the age-old aphorism "What you looking at?" proves as challenging to answer as it is provocative to ask. What follows are a few responses that have been professionally tested on gritty urban streets over a number of years. Please note that although our rebuttals may have tested well in circumventing beatings, ABSOLUTELY NOTHING IS GUARANTEED. Street bullies are like snowflakes: Each one is a unique individual. While they may ask the same question, they're not necessarily all looking for the same response.
Answer #1
"Nothing."
(also: "Nothing, man.")
Human instinct will naturally (more…)
Oh, 2006! Harry Potter and the Goblet of Fire had been released a mere one year prior, Madonna was two years away from issuing Hard Candy, and the Lowbrow Reader was publishing its fifth issue, forever remembered as "Lowbrow Reader #5." And what an issue! It is the only Lowbrow Reader not to feature a toilet on the cover—instead, cover illustrator John Mathias got classy and went with a urinal. Articles include Ben Goldberg and Joe O'Brien debating the pros and cons of Chevy Chase; Neil Hagerty toasting Don Knotts; and a comic-book–style interview with the White Stripes by Mike Reddy (drawings) and Jay Ruttenberg (words).
While many of the articles would reappear in our book, The Lowbrow Reader Reader, Lowbrow Reader #5 itself has been sold out for a few years. But guess what? We just unearthed a small stash of copies, available to the Paypal-equipped public via our ordering page. Check it out—but act fast, as supplies are limited!
I am a statesman delivering a much-anticipated speech in an ornate hall. I approach the dais and unfurl my prepared remarks. The packed crowd watches my every movement, rapt. I look down and realize I have neglected to wear a shirt, and am staring out at the gathered men and women completely bare-chested. My toes feel the floor beneath my feet, and I understand that my shoes and socks have been forgotten as well. Finally, I notice that I am wearing neither pants nor undergarments and, in fact, am standing before these dignitaries naked as the day I was born. But suddenly, my dream turns into a nightmare, as I realize that my press secretary has failed to notify the media of my address. There is not a single camera or reporter present: no broadsheets, tabloids, or nightly news. Disaster! I step down from the dais and furiously rebuke this imbecile employee until he breaks down in tears. Returning to the speech, I receive a standing ovation and seven scattered "bravos!"
I am at Shea Stadium and Jerry Koosman is on the mound. An elderly Japanese man has taken my seat by mistake; naturally, I irately reprimand him. But just as he lifts his dagger to commit hara-kiri—which would be especially ironic, as the Mets are playing the Cubs—I deliver a heroic speech about the wonders of life, and he is saved. The game is going into the top of the 7th and the Mets are winning, 104 to 2. It occurs to me that I must urinate, so I excuse myself to visit Shea's immaculately maintained men's room. A man appears at the urinal to my right, eating a hoagie. It is Koosman! "Aren't you supposed to be pitching right now?" I inquire. Koosman laughs my question away, as if he gets such queries all the time. "Young fella, someday, you're gonna run this town," he tells me. "Let's introduce you to some voters." Koosman tosses me over his shoulder like a sack of potatoes and carries me onto the field. I stand on the pitcher's mound, urinating, as the game goes on around me. The entire stadium boos. After the game, I shake hands and collect signatures from 835 registered Democrats.
A parade. I stand at the side of the road with my fellow spectators, all of whom wear old-time straw hats, for it is 1934. I am nude but for a strategically placed sombrero—strategically placed, that is, atop my head, so that it can provide my manhood with much-needed shade. Suddenly, an old hag appears. "Hide your shameful manhood!" she cackles. I turn to confront her, for I am a New Yorker and refuse to take any guff, but she disintegrates into thin air. In the parade, an elegant convertible slowly passes, ferrying Fiorello La Guardia. I make a show of berating the mayor, lambasting him for his failed policies as the gathered newsmen, impressed with my performance, take note. A makeshift press conference is convened as I take questions from the reporters. I turn back to Mayor La Guardia to find that he has transformed into his alter ego, Señor Sexy. He is joined in the convertible by several female supporters; they engage in love-making.