It's a kind of furious pride, very passionate and stern.
—Gilead
 He studied her face. "You're furious."
"That's right."
—Home
 The life she'd decided she would never have was there the whole time, trapped and furious, and in that minute she knew that if a man she ought to hate said one kind word to her, there was no telling what she might do.
—Lila
The latest cinematic installment of this blockbuster series will not disappoint fans of the earlier two, and as usual, the team behind the previous adaptations of Marilynne Robinson's prize-winning novels have hewn closely to the book and also made the film their own, with thrilling results.
Set again in the small farming town of Gilead, Iowa, among the clerical Boughton and Ames families, Lila: Trés Furious, finds the title character (Michelle Rodriguez) wed to the much older widower Rev. John Ames (Duane "The Rock" Johnson). Lila's past is something of a mystery, and I don't think it's much of a spoiler, given the previous films, to say that as the truth of her history unfolds, the characters hop into various modified stock vehicles and undertake numerous cross-county chases through corn fields, wheat fields and cow pastures. Viewers who know the franchise will expect the resulting carnage, high-speed crashes (with stunning CGI affects), and meditations on the nature of grace, shame and predestination.
The series has moved beyond the single-note script of the original, Gilead: Really Quite Furious, in which the Revs. Ames and Boughton (Vin Diesel) compete on Saturday night racing through Gilead's street, then battle for souls on Sunday morning. Robinson adapted her own novel for the original film, and the theological sparring between the clergy—shouting excerpts from Calvin as they redlined through the Iowa night—seemed somewhat implausible. After all, with only a hair's-breadth difference between them, would Rev. Ames, as a Congregationalist, really allow a synod of elders to dictate that he should install the Edelbrock Performer RPM intake manifold over the Mopar M1 on his 383 Road Runner when he's already expressed a desire to stay as stock as possible? "Manifold sins" indeed!
Despite the climax of the second film, Home: Furiouser, fans need not have worried that they'd seen the last of Jack Boughton (Channing Tatum), the troubled, thieving, alcoholic mechanic and prodigal son who roared through the town in his father's restored and souped-up DeSoto. There, after surviving an apparent suicide attempt that devastated his fragile, loving sister Glory (Jessica Chastain), he left the family house, presumably never to be seen again. Of course, as viewers well know, once out the door, he finds the Rev. Ames, his mortal enemy, bearing down on him in his monster John Deere combine, an S680 tricked out with the 8-wing feed accelerator. The slow-motion, real-time chase through a wheat field (Jack Boughton was drunk and stumbled a lot) famously ended showing Jack's bloody remains in the shredded scraps of his familiar suit. The suit then exploded because Jack had cleaned it with gasoline.
In the first few minutes of Lila, we learn that Jack survived that peril by cleverly throwing his coat over a deer carcass in the field, and that's what the evil Rev. Ames mistook for Jack's body. Talk about a surprising resurrection!
The filmmakers, in particular director Justin Lin, have taken a risky step by deepening the characters in Lila. The dialogue of Home was spare and beautiful: "You're furious." "That's right." Some nitpicking critics complained that those two lines became an ubiquitous catchphrase because they were the only words spoken in the film, but I see that as an example of Lin's admirable restraint. And that left lots of screen time for racing!
In Lila we get more expansive narration and plot. Instead of depicting straight-up street competition, the film posits that terrorists are planning an attack on Gilead. Jack, who is working undercover for the CIA—his alcoholism was a ruse—rallies the warring Ames and Boughton families together against the threat with a rousing organ version of "There Is a Bomb in Gilead." Streetwise Lila moves to the forefront of the story, displaying surprising black-belt martial arts skills even in the seventh month of her pregnancy. I only wish the marketers had not ruined the shock of that development by making the phrase "there's no telling what she might do" the tag line for the film. The only spoilers here should be on the backs of the cars.
Until Robinson writes another Gilead book—pray that she will!—aficionados of the franchise will have to be content with the same filmmakers' next project: an international thriller and Tom Cruise action vehicle that boils down the entire six-book series of Karl Ove Knausgaard's My Struggle into M-S:1-6.
Happy April Fool's Day, for those celebrating. Frankly, it's not really our cup of tea. Last year, however, representatives of The Lowbrow Reader took part in the day's festivities. Namely, Lowbrow contributor Phillip Niemeyer and editor Jay Ruttenberg published a chart in The Boston Globe's op-ed page examining a century of humor, beginning with Charlie Chaplin himself. How about an encore performance? Here is the chart, straight from the august pages of the Globe.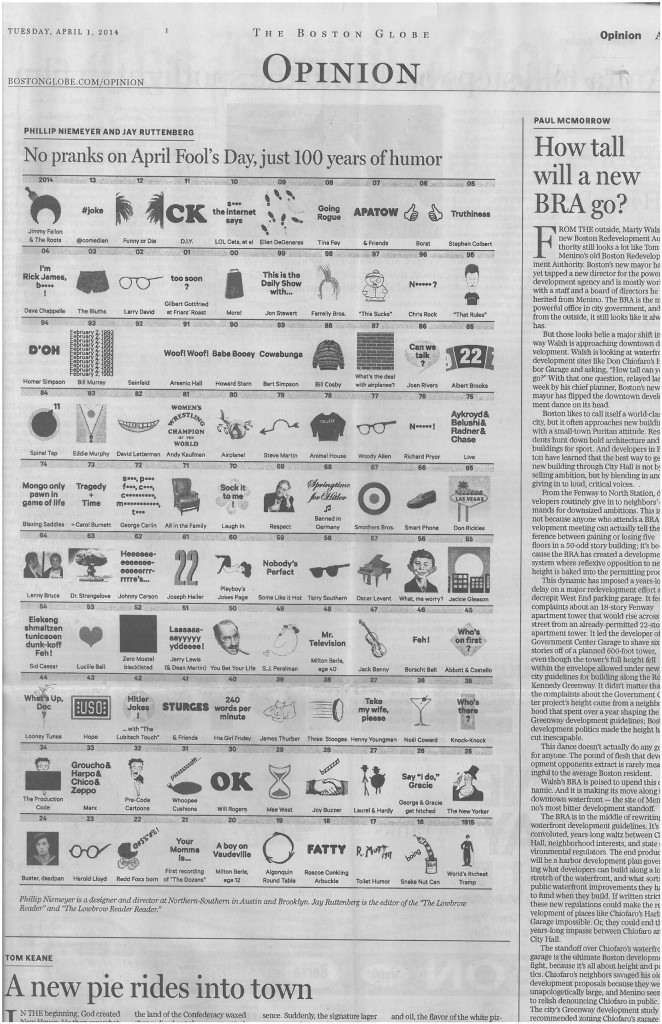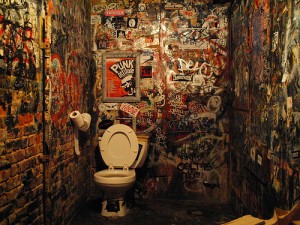 For a so-so time, call 646-859-4621
Your mom's cookies suck
Metallica used to rule, but have petered out in recent years
Principal Davis could be better at his job
My sexual member is more or less adequate
The food here tends to be overcooked
I [heart] sunny days
Jeb Bush for President
Honestly, this bathroom really does not smell too horrific, all things considered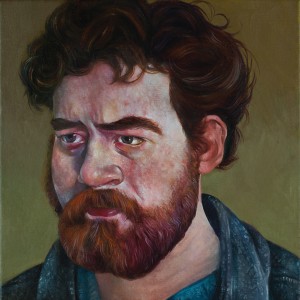 When the Lowbrow Reader staff was younger and in possession of more energy, we periodically arranged Lowbrow Reader Variety Hour shows, presenting the brightest lights of New York music, comedy, literature, and what-have-you. So back in 2012, when Chicago's Drag City published the Lowbrow book anthology, in a failed bid to impress the publisher, we decided to take the show to their hometown. But who, exactly, were Chicago's stars? One easy pick: Daniel Knox, who, along with his band, played a handsome set at Lowbrow's Chicago show, at the Hideout.
Now, the musician—who is equipped with a piano, meaty baritone, and sense of humor as dark and evil as the night itself—has brought forth a sterling new album. Self-titled and released on Carrot Top Records, Knox's third LP hosts ten moody songs inspired by his childhood in Springfield, Illinois, as well as by a collaboration he completed with the photographer Jason Atwood. Backed by strings and horns, the singer displays a touch of Weimar decadence and '90s archness. He is a proud misanthrope. "Don't touch me with dirty hands, god knows where they've been," he sings toward the top. "Don't look at me with those eyes, god knows what they've seen." Order Daniel Knox today—or check out the man himself, live and in concert. (For those in New York, Knox plays Rockwood Music Hall on April 12.)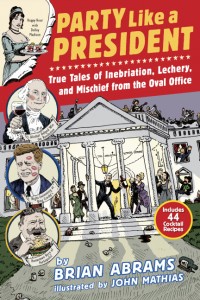 Remember that time we let an outsider artist lead the country for eight years? What about Chester A. Arthur—who, it was said, "never did today what he could put off until tomorrow"? There was also the retired B-movie actor who engaged in a nearly decade-long war against poor people. We've had some doozies, America!
Indeed, it can be difficult to take every U.S. leader seriously—a fact that makes Party Like a President: True Tales of Inebriation, Lechery and Mischief from the Oval Office a particularly useful volume. Freshly published by Workman, the book was created by a pair of Lowbrow Reader contributors: writer Brian Abrams and illustrator John Mathias (the pen behind every Lowbrow cover going back to 2001's issue #1). Chronologically featuring all 43 democratically anointed presidents, plus George W. Bush, Party Like a President focuses not on war, legislation, or economics, but rather the various leaders' habits of drink, debauchery, sloth, and gluttony. So it is that we learn of John F. Kennedy and crew lounging around Bing Crosby's Palm Springs pool, chatting up airline stewardesses. ("Everybody was buckass naked," claims an eyewitness.) George H.W. Bush's presidency, naturally, is reduced to that time he vomited at a televised Japanese state dinner. Then there is Calvin Coolidge (a chapter already familiar to readers of Lowbrow Reader #9), who was in the habit of waking from one of his afternoon naps and asking an aide, "Is the country still there?" Throughout the book, readers can feast upon Mathias's lush illustrations.
As Lowbrow Reader muse Gilbert Gottfried says: "I've read the book, and I can pretty safely say that most of the words are spelled correctly. He's got a good sense of where to put commas and periods." Indeed! Congratulations, Abrams and Mathias! Get to your nearest bookstore and dig into Party Like a President today!
We are heartbroken over the loss of Lowbrow friend and contributor Taylor Negron. He died at 57 after battling cancer, but in our minds he was forever 25 and as healthy as a child. Taylor was preternaturally funny, smart, generous, and warm—the kind of guy you were always excited to hear from. He was monstrously charismatic. Seemingly everybody in New York and Los Angeles, the cities he bounced between, was friends with him. About a year ago, Taylor started working on "My Name Is Julio: I'm So Bad, I Should Be in Detention," an essay about filming Easy Money that appeared in last year's Lowbrow Reader issue. He worked on the piece in his Upper West Side apartment, the now-closed West Village vegetarian restaurant 'sNice, and, bizarrely, a five-star cruise traveling from the Atlantic to Pacific Oceans by way of the Panama Canal. (Naturally, while onboard, Taylor did a reading of the piece in progress.) We were so thrilled to publish his beautiful essay; we are so sad that we will never again get to see Taylor.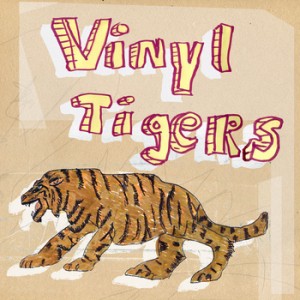 Regular readers of The Lowbrow Reader have long been acquainted with the work of Doreen Kirchner, whose ravishing illustrations have appeared in our pages since issue #2, back in 2002. Most recently, Kirchner's art accompanied Taylor Negron's essay about filming Easy Money, in Lowbrow #9. (Just feast your eyes on her Rodney!) When she is not practicing the visual arts, Kirchner is busy with the rock & roll ones. And a fine rock & roller she is. Vinyl Tigers, Kirchner's new trio co-starring TV Wayne and Jeff Preischel, just unleashed its debut, a self-titled album. The record is spare and chicly scuzzy, invoking Cats and Dogs–era Royal Trux. No surprise there: We first became acquainted with Kirchner through her work illustrating The Adventures of Royal Trux, a comic book written by another prolific Lowbrow contributor, Neil Hagerty. So, how to proceed? Check out Vinyl Tigers via Bandcamp. Or, better yet, order a CD. Each copy features an original handmade cover—beat that, other bands of America!
At Confession
Man: Forgive me Father, for I have sinned. It has been five months since my last confession. These are my sins. I rejoiced over the death of somebody I once deeply cared for. This person was not a good man—in fact, he committed some horrific, altogether heinous acts. But he had repented. And yet when I saw him hanged, in a public square, before bloodthirsty Iranian masses, I could not help but rejoice in his execution.
Priest: Are you…excuse me, but are you talking about Brody, from Homeland?
Man: Yes, Father. Yes, I am.
Priest: Oh, come on! That character had gotten so annoying!
Man: I know, right? Phew! I can't tell you how relieving it is to hear you say that.
Priest: If I had to endure one more scene of Carrie crying over him, I swear, I was about to lose all faith. In the show, that is.
Man: The thing is, the writers put Brody in a corner. If he had survived any longer, Homeland would have lost—
Priest: Any credibility. Have you watched True Detective?
Man: No, I've been really busy at work.
Priest: Hmmm.
Man: I should watch it, shouldn't I?
Priest: It's only an eight-episode arc.
Man: Okay, okay! Forgive me Father, for I have sinned! [Laughter]

At the Therapist
Man: So, work has been going much better the last couple of weeks. I think I resolved things with my supervisor. And I feel fairly confident about how I approached the situation. It's funny, but you know what I keep mentally comparing it to? In the new season of House of Cards, when Frank Under—
Therapist: I'm sorry, but I'm going to have to cut you off there.
Man: Excuse me?
Therapist: My wife and I are still working our way through season one. (more…)
In conjunction with New York's Vision Zero initiative, which aims to eliminate all traffic fatalities in the city within a decade's time, our committee has concluded its study of New York's sundry traffic hazards. Here are our findings.
The New York Police Department, while doing yeoman's work in its ticketing of cars that have been illegally parked for more than nine seconds, could take more aggressive steps to curtail unsafe driving. The department's policy of allowing exotic sports cars to travel at triple-digit speeds, on the theory that "they seem more comfortable going fast," should be reconsidered. And while motorcyclists do, at times, "look really scary," that should not give them carte blanche to roar through the city's streets like Genghis Khan's Mongol warriors rampaging through Eurasia.
The current prerequisites for a taxi driver's hack license—"a pulse, change for a twenty, and an unquenchable thirst for danger"—prove woefully inadequate. The Taxi & Limousine Commissioner of Responsible Driving (the well-intended yet overtaxed Popeye Doyle) would be wise to institute a handful of reforms. Henceforth, all cab drivers should be dissuaded from attempting to break the sound barrier in the intervals between red lights. The alarming percentage of cabbies who learned to drive by mimicking the motions of actors steering against blue screens in old-time movies should be encouraged to pursue their driver's education through more formal channels. Note that courses completed at Coney Island's Eldorado Bumper Car attraction should no longer count toward accreditation.
When transporting documents within the city, businesses currently call upon former extras from The Warriors to ferry the papers on battered bicycles, beseeching pedestrians to steer clear in vocal intonations typically associated with Godzilla. (more…)
A pair of funny books recently hit our office's (virtual and wooden) shelves: Brian Abrams's e-book And Now…An Oral History of "Late Night with David Letterman," 1982–1993 and Stephin Merritt's 101 Two-Letter Words, a hardcover featuring illustrations by Roz Chast. The books share the Lowbrow Reader's coveted, Oprah-esque stamp of approval, the phrase "Letter," and little more. Let's check 'em out!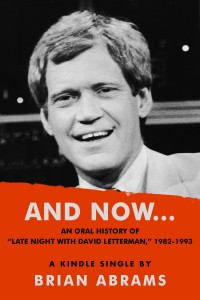 New York is in an eerie and mildly depressing state. Joan Rivers and Lou Reed have left the planet; Derek Jeter and Mariano Rivera have left the ballpark; Philip Roth has left his writing desk; and in a few months, David Letterman will be leaving the television. We turn to younger generations to replenish our stock of heroes—the pressure is on, Generation Y! But first, we can salute the outgoing idols. And Now…An Oral History of "Late Night with David Letterman" gets in early with Letterman adulation. The book examines not Letterman's current CBS show but its wildly influential precursor, which ran on NBC between 1982 and 1993. Abrams (a Lowbrow Reader contributor) talks to an army of Late Night writers, guests and machers, narrating the creation and execution of the program that essentially redesigned the talk-show mold. It is being published as part of Amazon's Kindle Single series.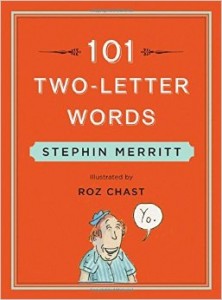 For more than two decades, through his various recording projects—most famously the Magnetic Fields—Stephin Merritt has proven himself one America's most consistent and funny songwriters. Somehow, 101 Two-Letter Words (a title that seems fodder for a Top Ten List) is his first book. Few Merritt projects come into the world without a set of strict conceptual rules. This one? Each spread features a four-line verse about one of the two-letter words allowed in Scrabble, alongside an illustration by Roz Chast, the New Yorker cartoonist. The author and illustrator are unlikely bedfellows. Chast's work is about motion and hysteria; Merritt is still, deadpan and monochromatic. Yet this is a smart pairing, with Chast's illustrations helping the writer's quiet jokes scream. Here is Merritt on the favored two-letter word of our grandparents:
"Oy gevalt! Oy vey! I often
wish I spoke Yiddish;
but then I'd have to eat chopped liver,
and gefilte fish."