Fans of smart design in New York City—and who, in New York City, is not a fan of smart design?—would be wise to head to the Pratt Manhattan Gallery to bask in "Albers, Lustig Cohen, Tissi, 1958-2018." Curated by Lowbrow contributor Phillip Niemeyer (director of the Austin gallery Northern-Southern), the handsome exhibit presents six decades of work by a trio of artist-designers: Anni Albers, Elaine Lustig Cohen, and Rosmarie Tissi. The three women's careers overlapped in a variety of ways, picking up different threads of cool 20th century thought. The Pratt show features not only paintings, prints, and posters but also books, sculptures, and even typography. There is also a new poster (above) designed for the exhibition by Tissi herself. The show is free and runs through April 28.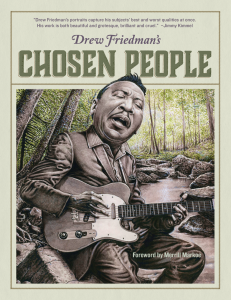 We are longtime fans of Lowbrow contributor Drew Friedman, whose every portrait finds a truth that cuts deeper than photographs, as the illustrator captures his subjects' beauty, ugliness, and, above all, humor. His Old Jewish Comedians trilogy deserves a spot on the shelves of even the most hard-bitten goy. Now, fresh in bookstores is Chosen People, a lovely hardcover, published by Fantagraphics, that brings together a new slab of famous faces captured by Friedman. Readers of Lowbrow issues #9 and #10 will be acquainted with two portraits: the illustrator's wondrous Gilbert Gottfried and Shemp Howard. There are many more, including favored comedians, musicians, disgraced politicians, and podcasters—plus a foreword by Merrill Markoe. Don't walk, run! Pick up Chosen People today!

In the Lowbrow Reader Variety Hour shows, we were proud to present some of New York's most riveting entertainers at Soho's Housing Works Bookstore: John Mulaney, the Fiery Furnaces, Adam Green, Wyatt Cenac, Jeffrey Lewis, Professor Irwin Corey…the list goes on! Among the best sets came from one of our favorite musical acts: Hess Is More, which tore the roof off the humble bookstore years ago. (It was since repaired.)
In the ensuing years, Hess Is More, which somehow is based in both downtown Manhattan and Copenhagen, has only gained strength. The momentum culminates in 80 Years, the band's breathtaking new album that was just released on Edition Records, a British label primarily associated with jazz. 80 Years is at once mind-bending and danceable, experimental and endlessly listenable, idiosyncratic and thoroughly accessible. Though it pivots around the songs of lead singer and drummer Mikkel Hess, this record presents a lovely showcase for the astonishing band he has assembled, including saxophonist Matt Parker, pop producer Rasmus Bille Bahncke, David Mason of the electronic act Listening Center, studio rabbi W. Andrew Raposo, and—who saw this one coming?!—trumpet heavy Tom Harrell. The record also features liner-notes by Lowbrow Reader editor Jay Ruttenberg, so you have something to read after you get tired from dancing. Buy 80 Years here—and check out the below video for "It's Backwards No Matter What I Do," produced in collaboration with designer Henrik Vibskov, originally for the Museum of Art and Design's great "fashion after Fashion" exhibition.
We are so sad to learn of the death of Gilbert Rogin: Lowbrow Reader subject, contributor, and, above all, friend. Rogin was a titan who seemingly thrived at everything he tried. He ascended to the height of Sports Illustrated's masthead, then turned to a career in the corporate magazine realm, helping Quincy Jones launch Vibe, among other achievements. We first encountered Rogin through his fiction: Through the '60s and '70s, he published a body of funny, dream-like stories, primarily in The New Yorker. These fueled a short story collection (The Fencing Master) and a pair of sui generis novels (What Happens Next? and Preparations for the Ascent).
Rogin was out-of-print and retired when he crossed our radar in 2009, via Lowbrow contributor Jay Jennings. A stray John Updike quote praising Rogin sent Jennings down a rabbit hole—he soon discovered, as too few had before him, the glories of Rogin's fiction. As we were preparing to publish Jennings's essay about Rogin, we discovered that the novelist himself was living mere minutes from Lowbrow headquarters, and became fast friends with Gil. Our subsequent issue, Lowbrow #7, featured Jennings's Rogin appreciation alongside "My Masterpieces," the first Rogin story to be published since 1980. (Both later appeared in The Lowbrow Reader Reader book, along with another wondrous Rogin contribution about his friendship with Muhammad Ali.) When issue #7 came out, we celebrated with a Lowbrow Reader Variety Hour show at the Housing Works Bookstore. Rogin read, appearing alongside the Fiery Furnaces, John Mulaney, Larkin Grimm, and Peter Stampfel & the Ether Frolic Mob. Better still: The following year, Verse Chorus Press returned Rogin's books to print, publishing a handsome single-volume edition of his two novels. Jennings's piece served as the introduction; Mike Reddy designed the cover.
Rogin was one of the brightest people in New York. The work he left behind is artful and eccentric, full of mystery, grace, and humor. We will be wrapping our heads around it for decades to come.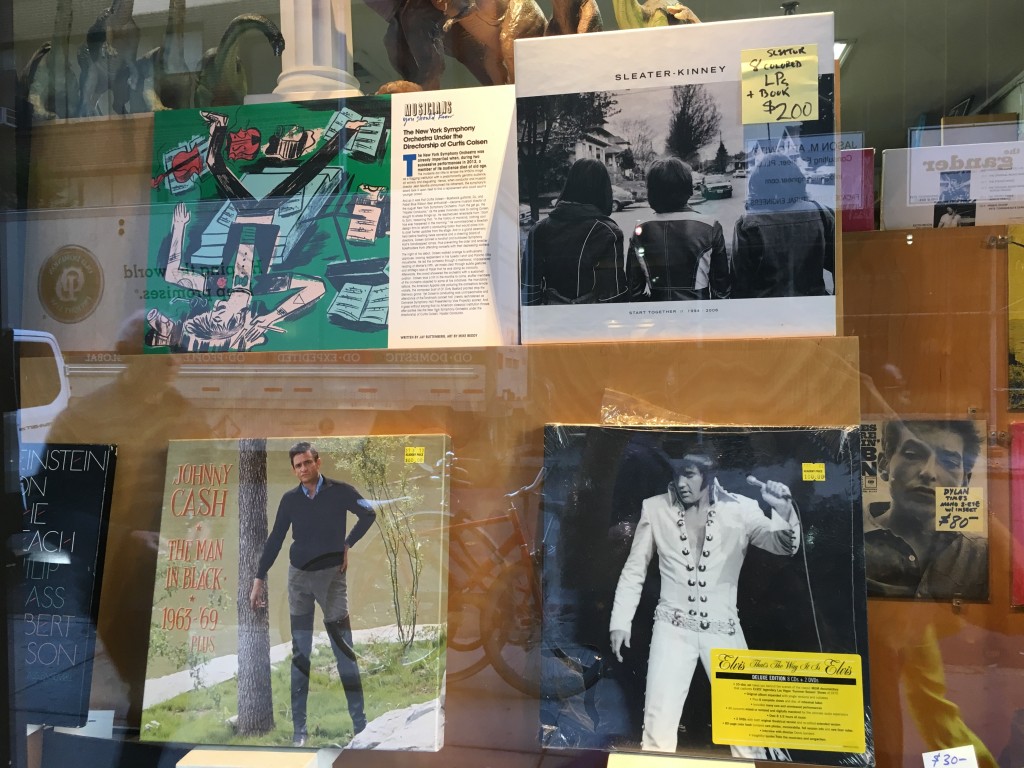 "Musicians You Should Know," featuring portraits of fictional musicians by Mike Reddy and biographies by Jay Ruttenberg, was introduced in Lowbrow Reader #8 and returned for an encore in issue #9. The series was later featured in the long-running online music magazine Perfect Sound Forever, the new humor magazine American Bystander, and a weekly Tumblr page. Now, it hits the streets! West 18th Street, to be exact. Beginning this October, Musicians You Should Know appears in monthly installments in the storefront window of New York's greatest record store, Academy Records, alongside the recorded wares of nonfictional musicians. Those lingering around Union Square are encouraged to drift west, just off Fifth Avenue, and admire the Musicians at Academy. The inaugural entry: The New York Symphony Orchestra Under the Directorship of Curtis Colsen, the "hipster conductor" first seen in Lowbrow #9, whose baton allows him to post Twitter updates from the stage. Watch your back, Simon Doonan!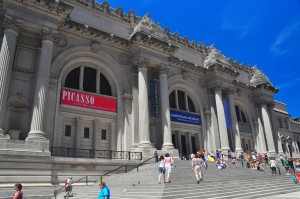 History has judged Donald Trump a weaker leader than George W. Bush. Yet Trump is, of course, remembered as the far superior oil painter, his vast oeuvre generated exclusively during his fruitful post-presidency. This series of works, presented together at the Metropolitan Museum of Art for the first time since the museum's 2091 blockbuster retrospective, reflects on the early days of Trump's first term in office. Here is a sampling:
In its angry blur of pink, "Persecution" depicts the Women's March on Washington, in which scores of protestors took to the streets against the future master. Notably, Trump portrays many of the protestors nude from the waist up, their ample bosoms glistening with meticulously rendered droplets of dew. Through the artist's clearly beleaguered perspective, the marchers appear aggressive and Amazonian—a sexually charged mob. Note the image of a muscled Christ, generally regarded as a stand-in for the painter, in the canvas's bottom left.
When the casual museumgoer thinks of Trump, she naturally turns to "Battle of Chicago," the artist's heart-rending wartime masterpiece that many consider an American "Guernica." That piece and similar works grapple with the painter's second presidential term: Indeed, it is said that the audacious beauty of these paintings is the only good to come of The Bloody War of the Hemispheres. Yet Trump's first term was a time of relative peace, bipartisan amity, and robust double-digit approval ratings. This untitled still life reflects on that period. In sensual tones, Trump depicts a half-eaten Big Mac resting on his Oval Office desk—a sleepy autumnal reverie with shades of Renoir.
"The Rape of Schwarzenegger" is portraiture at its most lurid. It is darker and more active than what we typically associate with Trump. Though deemed a minor work, it is the rare painting in which the artist chooses to depict himself, here acting in the role of aggressor. (The painter's adversary is Arnold Schwarzenegger, a California governor and movie actor best remembered for his role in the Sinbad holiday classic Jingle All the Way.) The numbers feverishly scrawled along the work's edges are thought to be television ratings from a game show that was hosted by both men and clandestinely produced by the Russian propaganda ministry.
In gravitating to painting, Trump was undoubtedly influenced by George W. Bush, whose post-presidential work remains a fixture of outsider art collections around the world. It was through art that Bush sought—and quickly found—his redemption, with frequent portraits of those who went to battle in his name. Although Trump's work concentrates less on such individuals, at times he did explore similar terrain. In "Woman," Trump paints a servicewoman newly returned from fighting a covert operation in Australia during the first month of his presidency. Portrayed nude in the Lincoln Bedroom, the Rubenesque soldier seductively stares down the viewer, defiant in seeking earthly pleasure in the face of turmoil. The servicewoman's stark black lower-back tattoo represents the dark currents pulsing through a troubled nation.
Trump spent his final years largely confined to his dacha, painting. He died at 102, a bottle of hair growth pills upturned near his easel in what was ruled an accidental overdose. "Massive" was among his final works. It deviates from what we have come to expect from late-period Trump, which largely draws on the homegrown: still lifes, figure drawings, landscapes of the artist's beloved Black Sea. By contrast, "Massive" revisits Trump's presidency for one final memory—as it so happens, the inauguration that initiated it. Though historical reports regarding the size of the inaugural audience vary, "Massive" is unequivocal, portraying a horde of well-wishers that somehow seems to multiply with every viewing, extending beyond the painting's boundaries as if to scrape the heavens. Yet despite the throng, Trump gives the work a distinct air of claustrophobia and loneliness. The dichotomy pays testament to the painter's talents, of course, but also lends credence to the view of Trump, like Bush before him, as an artist marooned in leadership, his soul itching to be set free on canvas.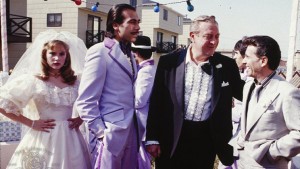 A highlight of Lowbrow Reader #9 was Taylor Negron's "My Name Is Julio: I'm So Bad, I Should Be in Detention," an impressionistic essay about the author's experience costarring in the Rodney Dangerfield film Easy Money. The article was published in 2014, a year before Negron's death. Easy Money remains among our favorite performances by this Lowbrow friend and contributor. So it gives us great pleasure to host a screening of the movie at Brooklyn's Alamo Drafthouse Cinema on Wednesday, August 30. The movie, which screens in ravishing 35mm, will be introduced by Lowbrow editor Jay Ruttenberg, reading from Negron's piece.
Easy Money comes second in the holy trinity of Rodney Dangerfield films, sandwiched between Caddyshack and Back to School and, thus, forever in the shadow of those movies. Yet Easy Money is a work of no small charms. Released in 1983—everything about the movie, in fact, screams 1983—it features Dangerfield wheeling around Staten Island in a stoned daze alongside Joe Pesci, struggling to curb his gluttonous ways in order to collect from the will of his dreaded mother-in-law. It's a rip-roaring turn from Dangerfield that cuts closer to the comic's reputation than his subsequent, PG-friendly work. Fashionistas will want to keep an eye out for Rodney's big men's wear collection scene—a true show stopper. But our favorite part of Easy Money, of course, remains the pitch-perfect performance of Taylor, portraying Dangerfield's Puerto Rican son-in-law.
Tickets are $10—a steal!—and available at drafthouse.com.
Spider-Man
The beloved arachnid swings again, with a fresh young cast and a retelling of the superhero's origin story. Watch for the point midway through the film when all of the principals are quietly replaced with a group of even younger and buzzier actors. For the benefit of those viewers who were not paying attention during the movie's first half, Spidey's origin story is repeated, too.
The Taking of Pelham One Two Three
As in the original film, a gang of ruthless criminals hijacks a crowded New York City subway car and holds its passengers for ransom. In this telling, the plan backfires once it is determined that the hijackers are running the train with an efficiency that far outpaces that of the MTA. The city offers to pay the ransom, provided that the hijackers stay on as consultants for the beleaguered subway system—a plan with devastating consequences for the hardened criminals, who are quickly driven to madness through their dealings with Albany.
Porky's
Jill Soloway, of Transparent and I Love Dick fame, helms a remake of the classic sexploitation film. Remarkably, the reboot features even more lecherous and gratuitous nudity than the original, but, for some reason, here such scenes are considered perfectly acceptable by polite society. Other elements, such as the southern town's Derrida-quoting sheriff and surprisingly ample community of trans-people, will be less recognizable to older Porky's enthusiasts.
Police Academy
The new film takes place entirely inside the fabled Blue Oyster Bar; Kirk Cameron stars.

Your Childhood
At last, Sony is rebooting the '80s franchise you have been most ravenously craving. In a bid for a broader audience, your character will receive a significant update, becoming more brooding and tortured, yet at the same time far more likeable. Similarly, many of the characters around yours have been given new roles, most dramatically Debbie Swindon. As in the original, the reboot casts her as your school's beloved, curvaceous prom queen. But whereas the Debbie role was formerly limited to one memorably-delivered line—"Can you give this sheet to Mrs. Berkowitz?"—the new work grants her co-billing as your character's fiery love interest. Note that the numerous fantasy sequences involving Debbie will be excised from the new version, which is aiming for a family audience.
If while strolling town this weekend you happen to spot men, women, and children sporting moustaches of substance and charm, have no fear: Sunday, July 9, is Lee Hazlewood's birthday, hence the carnival atmosphere sure to arise in cities globally. Hazlewood, who died a decade ago at 78, is an undervalued mountain of American song, his records striking the perfect balance between artfulness and informality. He remains best known for "These Boots Are Made for Walkin'", the immortal Nancy Sinatra hit he wrote and produced in 1966, as well as for the subsequent album, Nancy & Lee. The string of off-centered LPs Hazlewood issued throughout the '70s are filled with treasures; we are partial to Cowboy in Sweden, recorded in conjunction with a Swedish television program that starred the musician.
In 2002, Hazlewood self-published The Pope's Daughter, a surreal and funny memoir about his years with the Sinatras. Like much of Hazlewood's work, the book deserves a wider audience. In fact, we were so impressed by his prose that we asked Hazlewood if he would be interested in contributing a humor piece to The Lowbrow Reader. For some reason, he agreed to do so. Hazlewood's piece, "Interview in Berlin," appeared on the back page of Lowbrow #3 and is also included in our book anthology, The Lowbrow Reader Reader. "We're about to discover," Hazlewood writes, "if scribes and reindeer really know how to fly." Read Mr. Hazlewood's piece in issue #3 (a very small handful remains for sale) or in The Lowbrow Reader Reader book! And remember to mark your Lee Hazlewood Day by spinning a hundred (or so) of Hazlewood's songs.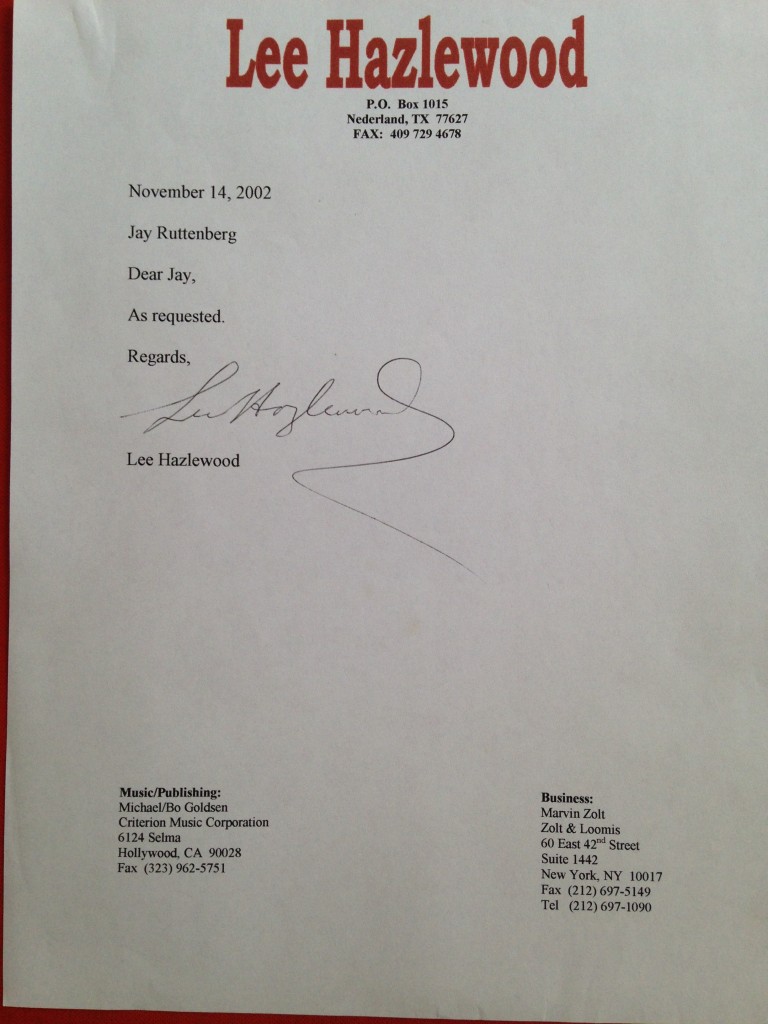 F Train, man-for-woman
On the F Train headed uptown. You were a vision in a "Do I Look Like a Fucking People Person?" shirt; I was manspread across seats meant for three. "Stop clipping your nails," you snapped at me. "I'm trying to eat." But the gleam in your eye hinted at something deeper, and when the man said, "It's showtime!" it seemed like our first date had commenced. You exited at West 23rd Street. Now, all I have to remember you by is the mostly empty spaghetti carton you left on the seat.
Bialystoker Synagogue, man-for-man
You: a black-clad Hasidic gentleman, somewhere between the age of 23 and 67, with the most ravishing black beard the Lower East Side has ever known. Me: the cute blonde boy, 29ish, walking by the Bialystoker Synagogue last Friday evening. You caught my eye and cut to the chase, asking me if I were Jewish. I answered in the negative and was invited inside to turn on the temple's lights. I'm sorry to inform you that you violated Sabbath, because there was some serious electricity going off between us. Think I make a good Shabbos goy? Get to know me as a Shabbos boy-toy.
Union Square, woman-for-man
Last Monday—or maybe Thursday?—afternoon, on 14th Street in Union Square. I was on the sidewalk approaching Broadway from the west, trapped in a horde of pedestrians 20 people thick. You, with your brownish hair and glasses (?), were in the backseat of a taxi headed downtown. I could be wrong, but it seemed like you were frustrated in your efforts to turn off the little screen in the back of the cab. You should just see me in a taxi, because that's totally me, too! "There goes the love of my life," I thought. "Knowing my luck, driving straight to his death."
Patsy's Pizzeria, man-for-woman
You were dining Wednesday night at an adjoining table. We only had a brief moment to speak: As you may recall, my wife and daughter had gone to the bathroom, leaving me with just a few minutes to lecture you about how radiant you looked. Further hindering our flirtation was the presence of your husband—who, if you remember, reacted to my praise with a somewhat shocking level of hostility—plus your own kids, who began to cry (rather histrionically, if I may say so) as the confrontation escalated. Through it all, I felt our bond grow deeper; I know you feel the same way. Apologies for loudly declaiming that you and your family were deranged mental lunatics, recently escaped from the asylum and pestering me, once my wife and daughter returned from the restroom. I owe you our first bouquet of apology flowers.