Watch Out: I have a certificate that reads, "Sense of Accomplishment."
Idea: What about an audio disc for drivers, of cats mewing?
Attention, Friends: In a misunderstanding, my heart was given to Roland Thompson. Now that guy has two hearts. Arrggh, I hate that guy! [Drops dead.]
Excerpts from My Mental Notes:
1. That thing you always think is wrong—do the opposite
2. I am wrong. This thought I have can't possibly be right. Remember to think this other, nonsense thought every time.
3. Try thinking own very wrong thoughts in a different order.
4. Aha! You found me! I planted this worthless mental note!
5. Put a lot of animals in my humor.
Spouse's Ultimatum: Can't love me? Buy!
Punny Relationship Ultimatum: You and what are me?
Little-Spoken Fact about Life: The hurts truth.
Hipster Band Name: Milk When You're Expecting Orange Juice
Dad Joke: Q: What do you get when you sneeze while eating nachos? A: "Nachoo!"
Regular Joke: Q: What's worse than a vomitorium? A: A vomiteria.
Random Funny Thing to Say Using a Character Name from The Simpsons: All should be well if this goes through, Disco Stu.
I Will Leave You with This: There is nothing worse than being none the wiser.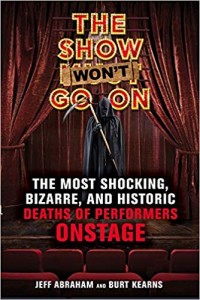 Here's a book to dig! The Show Won't Go On: The Most Shocking, Bizarre, and Historic Deaths of Performers Onstage, which was written by Lowbrow friends Jeff Abraham and Burt Kearns and has been newly published by Chicago Review Press. In gory detail and with no small amount of black humor, the book recounts those surprisingly numerous moments when a performer gets onstage and never comes off, reaching his end before a horrified crowd.
The well-researched book includes chapters on performers of all ilk, be they doomed singers, magicians, or, of course, comedians, including the notorious Friars Club death of Harry Einstein (father of Albert Brooks and Super Dave Osborne). All are handled with grace. What might have proved grim or exploitative turns celebratory, as the authors examine the careers of largely obscure artists united in misfortune. For instance: Dick Shawn, an uncorked comedian (he played Lorenzo Saint DuBois in The Producers) whose heart failed during a climactic moment of his one-man show. "The whole time he's lying there, the audience is still there," the comic's son recounts in the book. "And there were people that wanted their money back." Learn all about Shawn, Einstein, and others in their woebegone fraternity. Buy The Show Won't Go On today!
Of all the dynamite magazines to evaporate in the unforgiving current century—and please take a moment of silence for MAD—few had the secret charms of Puncture, a home-baked music magazine that published 47 issues between 1982 and 2000. Puncture chronicled the indie-rock of its day with a snob's flare, forever tasteful and intelligent. It was the first publication to print features about Sleater-Kinney, Guided By Voices, and Broadcast; it excerpted Infinite Jest and interviewed Yoko Ono; it was a passionate champion of the Mekons, the Go-Betweens, Neutral Milk Hotel, and Throwing Muses.
Puncture Magazine ceased publication in 2000 as its editors, Katherine Spielmann and Steve Connell, turned their attention to their publishing house, Verse Chorus Press. (The fact that The Lowbrow Reader published its first issue the following year is no coincidence—Lowbrow's editor worked at Puncture in its final years.) Spielmann died in 2016—yet the legacy of Puncture lives on. Next year, Verse Chorus will publish Now Is the Time to Invent, a book anthology featuring writing and photography from the magazine, tracing the growth of indie-rock in real time.
But first up, there is Puncture: The First 6 Issues, available now from Tract Home Publications. For before it was a (scrappy) magazine from Portland, Oregon, Puncture was a (scrappier) zine in San Francisco, covering Bay Area punk of the early '80s. This book reprints every vibrant page of the first six issues, with a new introduction by Patty Stirling, who founded Puncture with Spielmann, plus a foreword by J. Neo Marvin, a favored byline throughout the magazine's run. For years, these issues have been difficult to find—even in the Puncture office—and generally priced for big-pocketed collectors. Seize the opportunity to read every word today! Snap up Puncture: The First 6 Issues, at retailers big or small.
The daily grind can be a lot: work, kids, bills to pay. It's no wonder so many of us are in therapy, on medication, or addicted to drugs. No thank you. I've found that the best solution for alleviating the angst of modern life is pretty simple: Realizing that a flying swarm of tiny robotic alligators will eventually lead to the collapse of our society and all of our deaths.
Just yesterday, as I walked in the rain after a long day at the office, a car sped by, soaking me with filthy gutter water. Ready to snap, something dawned on me and I let out a long sigh and smiled: We are all going down, courtesy of these god-forsaken robot alligators.
The mini gators might fly into our noses or ears to inflict unbearable pain or, perhaps, some maniac will design ones that just explode our brains. Either way, it's going to happen and there's nothing we can do about it.
I took my wet shoes off and poured myself a nice, cold Miller Lite.
Sure, this all may sound a bit fanciful. But it might not even necessarily be alligators! It could be flying orbs, helicoptering hot dogs, or, chillingly, bees, like in that creepy TV show.
And, hey, maybe it won't be every human on the planet who dies this way. But, there's little doubt that if any government or rebel group or even an acne-scarred teen with a bone to pick assumes similar control, it's only a matter of time until chaos reigns. (more…)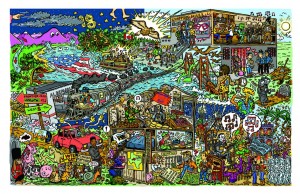 If you have read The Lowbrow Reader you surely have admired the mind-bending cartoons of all-star contributor David Berman. Yet like many, we first encountered the artist through his songs: Namely his near-perfect recording project the Silver Jews, which he laid to rest about a decade back. But congratulations! You have successfully waited out Mr. Berman's musical retirement: Earlier this month, he unveiled a new band, Purple Mountains, whose self-titled album comes out on Drag City in July. For now, feast on the knockout first glimpse, "All My Happiness Is Gone"—rarely have we been so happy to be this sad. Order Purple Mountains through Drag City, where you can also pick up a new hardcover edition of Berman's poetry book, Actual Air, plus his book of cartoons, The Portable February.
But how else to celebrate Mr. Berman's return to music? Easy! Cover your wall in "SilverJewsLand." With MAD magazine splendor, the brand new poster (above, in miniature), illustrates over 75 Berman songs. And the artist? None other than Jeffrey Lewis—who, like Berman, is a polymathic singer, songwriter, cartoonist, and Lowbrow Reader contributor! Buy a copy of the poster through Lewis's website today, and watch for both Lewis and Berman on tour in the months ahead.
Family photo albums
Hold these photographs to your chest and ask yourself: Does keeping every picture bring unconditional joy? Do you examine the photos daily, or merely weekly? Are you a professional photographer or simply a hobbyist? Do you know where your rubbish bin is located and, if so, why are you still waiting to place this mawkish debris inside it?
A silver pendant gifted to you by a beloved aunt as she was murmuring her final words, which were, "Cherish this precious heirloom as generation after generation of your ancestors have before you."
Don't repeat the mistakes of your forebears. Donate the pendant to your trash can, thus making room for more important things, such as an empty shelf.
The ashes of the aforementioned beloved aunt
These are remains: the very definition of garbage. Take a photograph of the ashes and dispose of them. Let three minutes pass, then delete the photograph.
Floorboards
Do you wish to pursue an uncluttered life, or are you defined and weighed down by your possessions? What will you hold onto next? Old newspapers? Coffee grinds? Your house's walls and doors?
Bob, your husband
All around the world, people live without romantic partners. They find no end of joy, self fulfillment, and empty closet space. Just remember to commit the legal details of your divorce certificate to memory before burning it.
Your kidney
You have two and need one. Don't fall prey to cheap sentimentality.
Your soul
Is there a God? It is hard to know definitively, seeing as you have already discarded all of your religious and philosophical texts. He most likely does not exist—the universe has no room for such frivolity. But if there is a divine power, He clearly doesn't want your garbage. Does God make junk? Check your sock drawer.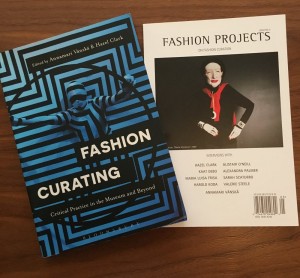 By now, astute readers have snapped up the new issue of Fashion Projects—the Lowbrow Reader's fancy sister publication about all things smart and fashionable. If not, never fear! Fashion Projects #5, which is devoted to the world of fashion in the museum, remains available for purchase through fashionprojects.org as well as turned on merchants, from Barnes and Noble to mighty Casa Magazines. Those in New York can also get their hands on the new Fashion Projects come Saturday, March 9, as the journal co-hosts a panel about fashion curation. The event, at Parsons School of Design's Wollman Hall, celebrates Fashion Projects #5 as well as the book Fashion Curating, which was published to acclaim by Bloomsbury last year. For information about the event visit fashionprojects.org or the New School.
—The court hears testimony from —- —, the IT aid who betrayed El Chapo's hard-won trust to federal agents representing six separate countries. To protect his identity, the tech guy's voice is altered to sound like Jerry Seinfeld. Over his head, he wears a brown paper grocery bag, which covers a ski mask, which covers his face, which a plastic surgeon has permanently rendered into an electric blur.
—The mistresses testify for the prosecution.

—Diagrams are displayed depicting El Chapo's daring escape after he was cornered, unarmed and nude, by an elite team of D.E.A. agents. Famously, the kingpin deployed a liquid-powered jetpack to transport him to his awaiting rocket ship—stocked with fuel, rations of astronaut caviar, and the San Luis Fútbol Club—and blasted off to Mars.
—The court hears from Lautaro, the prize lion from the drug lord's subterranean zoo. The beast tearfully recounts how El Chapo got him hooked on an 18-gram-per-day cocaine habit that culminated when Lautaro, desperate to satisfy his insatiable craving, ate a hophead telenovela starlet.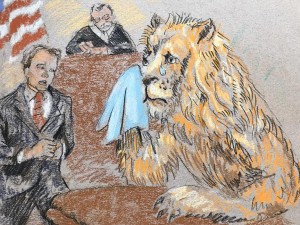 —Moments after being sentenced to 9,864 consecutive years in a maximum security penitentiary, El Chapo suddenly disintegrates into dust particles, reconstituting himself in the penthouse suite of Playa del Carmen's most exclusive hotel.
We are longstanding fans of Hess Is More, the mighty New York/Copenhagen musical collective centered around singer and drummer Mikkel Hess. Years ago, the band starred in a Lowbrow Reader Variety Hour Concert, and Lowbrow editor Jay Ruttenberg wrote liner-notes for the band's last couple of albums. No band beats Hess! Might you take our word for this because of the Lowbrow Reader's extensive track record of immaculate taste? Of course. But you can also examine the new video, below, featuring a Hess formation performing onstage in Copenhagen. Those in New York might also check out the band for themselves: Hess Is More plays at Nublu (151 Avenue C) on Saturday, January 19.
Dearest Friends,
Greetings from —- — where — and I have escaped for some brief R & R, hoping this holiday letter finds you enjoying the season. It was a busy year for the ——- clan, from family milestones (– years of marriage!) to a long-overdue kitchen remodeling to — —- ——- the future of democracy as we know it. How the year has flown.
At an age when many of our old friends are kicking back with a daiquiri at the 19th hole, — continues to enjoy his work, and there are some weeks when the only time I see his face is on TV. The focus of —'s year has been the – — —- — —- — — ——.
One night when — was working late, I heard a rustling noise behind the house, where we park the bagged leaves until curbside pickup on Tuesday. – — —- —- ——- —– —a leather glove on the garage floor, like someone had dropped it in a hurry, but it was much too small to —- —- —– ———- — —- —- — —– —- —- —- — —— – hiding in plain sight. Of course, I wondered just what kind of person would —- —- ——- —– —- — —- —– —- — — ——- —- — —- —— — — — – —- — —- — a list of funny-sounding names with corresponding figures on a soiled cocktail napkin — —- ——–. Then I remembered — still kept that old VHS player in the basement that —- —- gave us when the FBI — — —, and wouldn't you know, it still worked! — — —– — —– —– —– — — — —- — — with his adult children in the suite — — — — —- unmarked bills and casino chips in a Hefty bag they hadn't even bothered to cinch. The — — Russians — felonies — — blackmail — —– —- gold toilet seat — —- lost his marbles —- —- —- orange — — — bright orange — —- — — — — — to say nothing of the smell. — — in a creepy way that would make your skin crawl, and, believe me, we've seen a lot. — — —- — started with his father who would dress up in a stolen — —- —- —– —- —— —— ——- —– —– —- —— U.S. Constitution — —- with a drugstore hairbrush. — calls him "the elf on the shelf." — —- —– sing like a canary — — —- —– — —– —- — whacked himself in the head with the garden rake. — —- —- —- —- —- —– —- And that explained the stranger's glove in the garage.
Well, what a year. With — at work so much, I've had plenty of time for long walks with the girls and recitals with the grandkids, hatha yoga (love my new teacher — —-) and my book club. My favorite was a novel called — —- — And, of course, Netflix binge watching. Guilty as charged, as they say. — —- ——and "The Crown" can't come back soon enough, though I wonder how I'll like the series without Claire Foy. She's fabulous.
Your friendship means the world to — and me, and we hope to see more of you, if not in 2019, then, hopefully, by the fall of 2020. Drop us a line if you have a chance. Though we won't be able to write back or call, please know you are in our thoughts.
Have a wonderful —– ——–.
The ——-s