Lowbrow Reader #1 was coughed out in the summer of 2001, which means that we have published under three American presidents: one a mess, one a marvel, and one a minor Wack Pack member sprung from the fiery pits of Hell.
This month, bookstores welcome a grand account of that anomaly in the middle: Brian Abrams's Obama: An Oral History (Little A). Abrams is a Lowbrow contributor in good standing, whose essay about a childhood encounter with Mel Brooks appears in issue #10. He is also an expert in the oral history format, having written such works on the masterpieces Late Night with David Letterman and Die Hard, as well as on Gawker. In Obama, he tackles his most ambitious book yet, interviewing a flood of people in the president's circle. These include all-stars (David Axelrod), nudniks (Joe Lieberman), and khaki-besotted Washington types who live for this sort of thing. Collectively, it paints a rich portrait of Obama's campaign and, especially, presidency. Check it out soon at a local bookstore—or the mom-and-pop web shop run by the kind-hearted folks who own the book's publisher.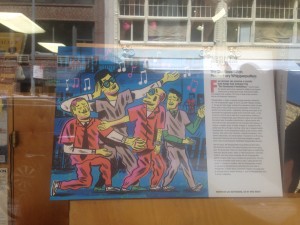 While 2018 will not bring with it a new Lowbrow Reader issue—we work slowly, okay?—readers in New York can get a fix with a simple stroll down West 18th Street. For there lies the great Academy Records, and in the store's display window, alongside assorted records and CDs, is a rotating display of Musicians You Should Know, illustrated by longtime Lowbrow contributor Mike Reddy with writing by editor Jay Ruttenberg.
The series, which originated in LBR #8, features (gorgeous!) illustrations of nonexistent bands alongside (hilarious!) biographies of said musicians. Every month, the window display turns a page to include a new act—some previously featured in Lowbrow, some in other publications or websites, and some exclusive to the Academy window audience. Check out this month's display, featuring the Old Greenwich Penitentiary Whipperpuffers, an a cappella group from a white collar prison. And while you're there, duck into Academy and treat yourself to a record!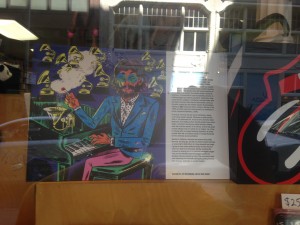 My cat died, so no funeral.
People think they can just waltz to 4/4 time.
Did I say, "conscious"? I meant, "couscous."
My new series of bumper stickers:
1. My Kid Is an Idiot.
2. What'd My Idiot Kid Do This Time?
3. Honor Society?!!
If I fall off my bike any more times, they are going to trim off my handlebar moustache.
Everpurple trees turn red in the spring; "everpurple" is a misnomer.
Two Wrights make a plane.
I know it must be cold in here because the cue card above my head reads, "Brrrrrr."
I have a stain on the cuff of my pants, but I work on the first floor, so no one'll notice.
Seeking a domestic partner: someone to cook, bake, boil, broil, grill, fry, pan-broil, stir-fry, par-boil, stew, braise, barbecue, char-broil, sauté, cure, deep-fry, casserole, steam, smoke, tempura, pressure-cook, render, roast, toast, oven-roast, pot-roast, spit-roast, curry, gut, bone, fillet, can, preserve, pickle, bread, poach, peel, pare, core, chop, cut, dice, slice, grind, shred, grate, mince, spice, flavor, season, salt, butter, julienne, prepare a decent meal, devil, reheat, heat, microwave, brown, scrape, scour, rinse, drain, strain, clean, cleanse, sweep, mop, wipe, disinfect, wipe up, clean up, clean around, clean under, spruce up, tidy up, tidy, neaten, neaten up, groom, clean about the house, valet, trim, wash, wipe down, sponge off, wipe off, drip-dry, shave, mop up, scour, scrub, swab, clean it, dust, polish, whisk, vacuum, do the household cleaning, comb, shine, buff, whitewash, bleach, launder, do the washing, starch, dry-clean, iron, rub, wring out, caulk, rewire, strip, paint, reupholster, repaint, put on an extra coat of paint, sand, plane, saw, nail, screw, nail up, sew, mend, stuff, re-shingle, renovate, carbolize, re-heel, scuff up, shine, tan, buckle, mow, rake, weed, weed-whack, leaf-blow, pick up the litter, garden, and spring-clean. You know, clean. (more…)
The stock market's recent roller coaster ride features trade war concerns, uneasiness about a White House vendetta against Amazon, and, yes, irresistible new snapshots of floor brokers looking super stressed out. A look inside the worried minds of those on the ground may yet shed some light on the chaos.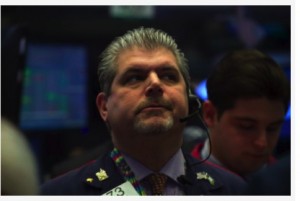 "When you're in an argument about which Subway 'Sub of the Day' is best, I'm sorry, Sunday shouldn't count. Nobody goes to Subway on Sunday."
"This dude is bigger than I initially thought, so I'm gonna try to switch this hand gesture from a 'back off buddy' to a high-five as quickly as possible. " (more…)
Even the most casual and tuned-out browser of The Lowbrow Reader has admired John Mathias's work: He is the artist behind the glorious toilet drawings that have graced the covers of every Lowbrow issue, as well as our book anthology. But when not dreaming up toilet gags—as if life allows time for anything more noble!—the artist helps run Mermaid Haberdashery, a splendid boutique in Ocean Grove, New Jersey. Much of the store is devoted to Miss Ellie NYC, the jewelry line created by John's uniquely talented wife, Ellie Mathias. Those near Ocean Grove would be wise to stop by the store sooner rather than later. In fact, head there between April 20 and April 22 and discover savings galore: Throughout the weekend, a 20% off sale extends to Miss Ellie NYC's collection as well as to vintage clothing, sunglasses, hats, and even original paintings by John Mathias himself. Hop in a car, let the city eat dust, admire the fabled Jersey Shore, and check out Mermaid Haberdashery today!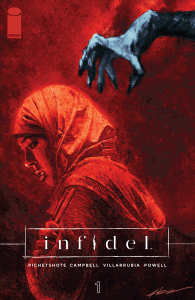 Here's an occasion worth braving a trip to a comic shop: the debut issue of Infidel, a remarkable new series published by Image Comics. Written by former Vertigo editor and longtime Lowbrow friend Pornsak Pichetshote, the comic also features the work of Aaron Campbell (artist), José Villarrubia (colorist and editor), and Jeff Powell (letterer and designer). Infidel is a horror series with its toes in the real world: Issue #1 follows its protagonist as she grapples with a meddlesome mother-in-law (scary!) who seems to harbor a possibly violent Islamophobia toward her daughter-in-law (even scarier!). Also, the family's building appears to be haunted. The comic is cast in lush, gloomy colors, both in pictures and words. Pichetshote's dialogue, always sharp, retains a perfect mix of naturalism and ambiguity, so that every character seems at once true-to-life and capable of a wide slate of deeds, whether in the service of good or evil. We eagerly await issue #2, due out this month. Hit up your local comic proprietor to seek out Infidel—or simply order it through Image.
August 4, 2026 – Eight years ago, few predicted that Amazon would acquire Netflix, Hulu, Spotify, Barnes & Noble, Trader Joe's, U.P.S., and FedEx, to say nothing of the United States Postal Service. What's not in doubt is that Amazon's massive growth is staggering. Less than a decade after the company's search for a second headquarters, Amazon is now ready to expand to a third city. As with the 2018 search, the company accepted pitches from cities far and wide, and has narrowed the list to 20 finalists. (Hard to believe that Tucson came in 21st, even after the mayor threatened that five out of six city council members would forgo Prime if it was passed over.) Here is the list of contenders for a third Amazon headquarters, accompanied by excerpts from each proposal.
Washington, D.C.
"Our nation's capital boasts monuments, museums and what would be a super easy commute for incoming Federal Trade Commission Chairman Jeff Bezos."
Denver, Colorado
"Just say the word and cocaine is legal."
Cleveland, Ohio
"Our second grade teacher told us that you can defuse mockery by making fun of yourself first, so here we go: What you've heard is true. Our river used to catch on fire. With some frequency." (more…)
Gilbert Gottfried's Amazing Colossal Podcast debuted in 2014, just after The Lowbrow Reader published its own amazing colossal Gilbert Gottfried feature—replete with Drew Friedman's Gilbert portrait and Gottfried's own illustrations—in Lowbrow #9. Podcasts helmed by comedians are hardly rare and overwhelmingly tedious. But Amazing Colossal distinguished itself almost immediately, as Gottfried and his well-researched cohost Frank Santopadre eschewed navel-gazing to dive into the minutiae of old Hollywood with a slate of wrinkly guests. The word "commissary" seems to come up a lot.
This week, Amazing Colossal Podcast celebrates episode #200—coincidentally, the median age of the show's guests. The Lowbrow Reader salutes Gottfried and Santopadre: mazel tov, 200 times over! Don't miss a minute of the previous 199 episodes, including chats with Adam West, Susie Essman, George Shapiro, and the great Amy Heckerling (like Gottfried and Friedman, a Lowbrow #10 contributor). And of course, don't sleep on ACP #200, featuring frequent guest Friedman along with Rupert Holmes and Richard Kind. Listen at iTunes, Earwolf, or gilbertpodcast.com.
Fans of smart design in New York City—and who, in New York City, is not a fan of smart design?—would be wise to head to the Pratt Manhattan Gallery to bask in "Albers, Lustig Cohen, Tissi, 1958-2018." Curated by Lowbrow contributor Phillip Niemeyer (director of the Austin gallery Northern-Southern), the handsome exhibit presents six decades of work by a trio of artist-designers: Anni Albers, Elaine Lustig Cohen, and Rosmarie Tissi. The three women's careers overlapped in a variety of ways, picking up different threads of cool 20th century thought. The Pratt show features not only paintings, prints, and posters but also books, sculptures, and even typography. There is also a new poster (above) designed for the exhibition by Tissi herself. The show is free and runs through April 28.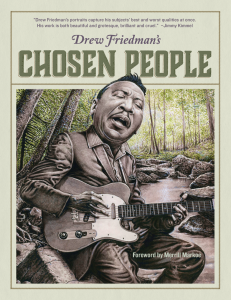 We are longtime fans of Lowbrow contributor Drew Friedman, whose every portrait finds a truth that cuts deeper than photographs, as the illustrator captures his subjects' beauty, ugliness, and, above all, humor. His Old Jewish Comedians trilogy deserves a spot on the shelves of even the most hard-bitten goy. Now, fresh in bookstores is Chosen People, a lovely hardcover, published by Fantagraphics, that brings together a new slab of famous faces captured by Friedman. Readers of Lowbrow issues #9 and #10 will be acquainted with two portraits: the illustrator's wondrous Gilbert Gottfried and Shemp Howard. There are many more, including favored comedians, musicians, disgraced politicians, and podcasters—plus a foreword by Merrill Markoe. Don't walk, run! Pick up Chosen People today!