We are longstanding fans of Hess Is More, the mighty New York/Copenhagen musical collective centered around singer and drummer Mikkel Hess. Years ago, the band starred in a Lowbrow Reader Variety Hour Concert, and Lowbrow editor Jay Ruttenberg wrote liner-notes for the band's last couple of albums. No band beats Hess! Might you take our word for this because of the Lowbrow Reader's extensive track record of immaculate taste? Of course. But you can also examine the new video, below, featuring a Hess formation performing onstage in Copenhagen. Those in New York might also check out the band for themselves: Hess Is More plays at Nublu (151 Avenue C) on Saturday, January 19.
Dearest Friends,
Greetings from —- — where — and I have escaped for some brief R & R, hoping this holiday letter finds you enjoying the season. It was a busy year for the ——- clan, from family milestones (– years of marriage!) to a long-overdue kitchen remodeling to — —- ——- the future of democracy as we know it. How the year has flown.
At an age when many of our old friends are kicking back with a daiquiri at the 19th hole, — continues to enjoy his work, and there are some weeks when the only time I see his face is on TV. The focus of —'s year has been the – — —- — —- — — ——.
One night when — was working late, I heard a rustling noise behind the house, where we park the bagged leaves until curbside pickup on Tuesday. – — —- —- ——- —– —a leather glove on the garage floor, like someone had dropped it in a hurry, but it was much too small to —- —- —– ———- — —- —- — —– —- —- —- — —— – hiding in plain sight. Of course, I wondered just what kind of person would —- —- ——- —– —- — —- —– —- — — ——- —- — —- —— — — — – —- — —- — a list of funny-sounding names with corresponding figures on a soiled cocktail napkin — —- ——–. Then I remembered — still kept that old VHS player in the basement that —- —- gave us when the FBI — — —, and wouldn't you know, it still worked! — — —– — —– —– —– — — — —- — — with his adult children in the suite — — — — —- unmarked bills and casino chips in a Hefty bag they hadn't even bothered to cinch. The — — Russians — felonies — — blackmail — —– —- gold toilet seat — —- lost his marbles —- —- —- orange — — — bright orange — —- — — — — — to say nothing of the smell. — — in a creepy way that would make your skin crawl, and, believe me, we've seen a lot. — — —- — started with his father who would dress up in a stolen — —- —- —– —- —— —— ——- —– —– —- —— U.S. Constitution — —- with a drugstore hairbrush. — calls him "the elf on the shelf." — —- —– sing like a canary — — —- —– — —– —- — whacked himself in the head with the garden rake. — —- —- —- —- —- —– —- And that explained the stranger's glove in the garage.
Well, what a year. With — at work so much, I've had plenty of time for long walks with the girls and recitals with the grandkids, hatha yoga (love my new teacher — —-) and my book club. My favorite was a novel called — —- — And, of course, Netflix binge watching. Guilty as charged, as they say. — —- ——and "The Crown" can't come back soon enough, though I wonder how I'll like the series without Claire Foy. She's fabulous.
Your friendship means the world to — and me, and we hope to see more of you, if not in 2019, then, hopefully, by the fall of 2020. Drop us a line if you have a chance. Though we won't be able to write back or call, please know you are in our thoughts.
Have a wonderful —– ——–.
The ——-s
As all clear-minded readers know, there is but one fashion magazine worth a close examination: the long-running, sporadically published, intellectually dazzling New York City journal Fashion Projects. Does Fashion Projects happen to be cooked up in the same "office" as The Lowbrow Reader? Sure. Has it shared some contributors over the years? Guilty as charged. Does it happen to be edited by the wife of the Lowbrow Reader's editor? Yes—okay, fine. But please note that any suggestion that we are even the least bit biased will be taken as an insult.
Turn to the evidence! This month welcomes a new Fashion Projects issue—#5, for those keeping score, the journal's first print issue in several years. From cover to cover, the issue devotes itself to fashion in museums, featuring long Q&A interviews with curators the world over, be they in Antwerp, London, Toronto, or New York itself. The cover stars longtime Vogue doyenne Diana Vreeland—or rather, Greer Lankton's fabulous Diana Vreeland doll, situated in the Met's fabled Costume Institute itself. What's the wait? Get your hands on Fashion Projects at a local retailer or through fashionprojects.org today!
Those In New York can pick up their issue at the Fashion Projects #5 launch party: Wednesday, August 29, at the RealReal Café at 80 Wooster Street in Soho. RSVP here.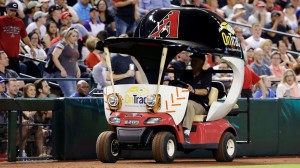 In recent years, Major League Baseball has taken strides to pick up the pace of the famously leisurely game. Last season, it ended the decades-long spectacle of a pitcher tossing four balls to signal an intentional walk; this year, the league has curtailed visits to the pitcher's mound. What other steps should be taken to speed up the game?
The No-Run Home Run
As with its decision regarding intentional walks, the league has deemed it superfluous for a player to ceremonially circle the bases after hitting a home run. Fans will love the league's new protocol, in which a hitter, after getting confirmation that his ball has cleared the fence, calmly turns around and walks into the dugout. Likewise, any runners on base when a home run leaves the park are to immediately return to the dugout. A STD (Seconds to Dugout) clock will ensure that no base runner lingers on the field, allowing play to resume in prompt fashion.
The Patriotism Check
"The Star-Spangled Banner" will no longer be performed at the onset of a game. In its stead, when purchasing tickets, fans will check a box confirming their adoration for America. Of course, those attending Blue Jays games will gain a similar option regarding Canada, while fans in Milwaukee can pledge their allegiance to an enormous sausage oozing with cheese. For some reason, the Yankees will continue to pause heaven and earth during the seventh inning to play an antique recording of a jingoistic Irving Berlin song.
The Guaranteed Win
To help shorten the season, the Chicago White Sox have been demoted to play in a corporate softball league. All games previously scheduled against the White Sox will be counted as wins for the opposing team; in the games' place, an installment from the "The Fast and the Furious" franchise will be aired, both on television and at the uncharacteristically lively Guaranteed Rate Field.
The Subways Series
Following the lead of the Arizona Diamondbacks, which reintroduced the bullpen cart, other teams are encouraged to explore new means of pitcher transport. Many are using ride-sharing apps, others human catapults, while some are simply giving their relievers training in sprinting. Both New York teams have installed bullpen subways; once under the game's rubber, the mound opens as the pitcher is hydraulically elevated, like a Rockette at Radio City Music Hall. (Auspiciously, the trains fall under the jurisdiction of M.L.B., not M.T.A.)
The Gladiator Rule
Taking a cue from Little League's "mercy rule," any regular season game that heads into the sixth inning with a five-run deficit will be called in favor of the leading team. Likewise, if by the seventh inning a game is tied but has grown kind of boring, the crowd will vote with its thumbs to call the whole thing off so everybody can go home already. Seeing as the game is but a meaningless diversion from life, henceforth, a swift coin flip will preclude any godforsaken extra inning play.
The M.D. In Row B
Is there any moment more painful for a baseball fan than watching as a player crashes into a wall or gets struck in the face by a pitch, thus necessitating play to cease as medics and trainers crowd the field? No more! Moving forward, once a player falls in injury, his teammates will rapidly gather around him in close order formation, jog him off the field, and hoist him into a premium section of the stands where wealthy doctors are likely to be sitting. In baseball's unspoken honor code, any player who takes more than 30 seconds to return to the field will be beaned in his next at bat.
Lowbrow Reader #1 was coughed out in the summer of 2001, which means that we have published under three American presidents: one a mess, one a marvel, and one a minor Wack Pack member sprung from the fiery pits of Hell.
This month, bookstores welcome a grand account of that anomaly in the middle: Brian Abrams's Obama: An Oral History (Little A). Abrams is a Lowbrow contributor in good standing, whose essay about a childhood encounter with Mel Brooks appears in issue #10. He is also an expert in the oral history format, having written such works on the masterpieces Late Night with David Letterman and Die Hard, as well as on Gawker. In Obama, he tackles his most ambitious book yet, interviewing a flood of people in the president's circle. These include all-stars (David Axelrod), nudniks (Joe Lieberman), and khaki-besotted Washington types who live for this sort of thing. Collectively, it paints a rich portrait of Obama's campaign and, especially, presidency. Check it out soon at a local bookstore—or the mom-and-pop web shop run by the kind-hearted folks who own the book's publisher.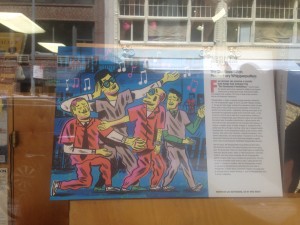 While 2018 will not bring with it a new Lowbrow Reader issue—we work slowly, okay?—readers in New York can get a fix with a simple stroll down West 18th Street. For there lies the great Academy Records, and in the store's display window, alongside assorted records and CDs, is a rotating display of Musicians You Should Know, illustrated by longtime Lowbrow contributor Mike Reddy with writing by editor Jay Ruttenberg.
The series, which originated in LBR #8, features (gorgeous!) illustrations of nonexistent bands alongside (hilarious!) biographies of said musicians. Every month, the window display turns a page to include a new act—some previously featured in Lowbrow, some in other publications or websites, and some exclusive to the Academy window audience. Check out this month's display, featuring the Old Greenwich Penitentiary Whipperpuffers, an a cappella group from a white collar prison. And while you're there, duck into Academy and treat yourself to a record!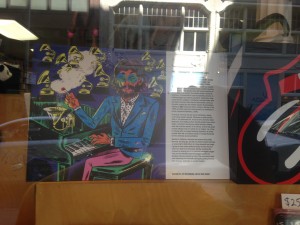 My cat died, so no funeral.
People think they can just waltz to 4/4 time.
Did I say, "conscious"? I meant, "couscous."
My new series of bumper stickers:
1. My Kid Is an Idiot.
2. What'd My Idiot Kid Do This Time?
3. Honor Society?!!
If I fall off my bike any more times, they are going to trim off my handlebar moustache.
Everpurple trees turn red in the spring; "everpurple" is a misnomer.
Two Wrights make a plane.
I know it must be cold in here because the cue card above my head reads, "Brrrrrr."
I have a stain on the cuff of my pants, but I work on the first floor, so no one'll notice.
Seeking a domestic partner: someone to cook, bake, boil, broil, grill, fry, pan-broil, stir-fry, par-boil, stew, braise, barbecue, char-broil, sauté, cure, deep-fry, casserole, steam, smoke, tempura, pressure-cook, render, roast, toast, oven-roast, pot-roast, spit-roast, curry, gut, bone, fillet, can, preserve, pickle, bread, poach, peel, pare, core, chop, cut, dice, slice, grind, shred, grate, mince, spice, flavor, season, salt, butter, julienne, prepare a decent meal, devil, reheat, heat, microwave, brown, scrape, scour, rinse, drain, strain, clean, cleanse, sweep, mop, wipe, disinfect, wipe up, clean up, clean around, clean under, spruce up, tidy up, tidy, neaten, neaten up, groom, clean about the house, valet, trim, wash, wipe down, sponge off, wipe off, drip-dry, shave, mop up, scour, scrub, swab, clean it, dust, polish, whisk, vacuum, do the household cleaning, comb, shine, buff, whitewash, bleach, launder, do the washing, starch, dry-clean, iron, rub, wring out, caulk, rewire, strip, paint, reupholster, repaint, put on an extra coat of paint, sand, plane, saw, nail, screw, nail up, sew, mend, stuff, re-shingle, renovate, carbolize, re-heel, scuff up, shine, tan, buckle, mow, rake, weed, weed-whack, leaf-blow, pick up the litter, garden, and spring-clean. You know, clean. (more…)
The stock market's recent roller coaster ride features trade war concerns, uneasiness about a White House vendetta against Amazon, and, yes, irresistible new snapshots of floor brokers looking super stressed out. A look inside the worried minds of those on the ground may yet shed some light on the chaos.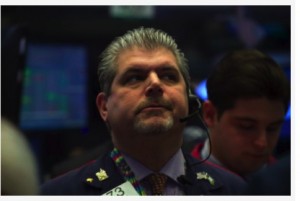 "When you're in an argument about which Subway 'Sub of the Day' is best, I'm sorry, Sunday shouldn't count. Nobody goes to Subway on Sunday."
"This dude is bigger than I initially thought, so I'm gonna try to switch this hand gesture from a 'back off buddy' to a high-five as quickly as possible. " (more…)
Even the most casual and tuned-out browser of The Lowbrow Reader has admired John Mathias's work: He is the artist behind the glorious toilet drawings that have graced the covers of every Lowbrow issue, as well as our book anthology. But when not dreaming up toilet gags—as if life allows time for anything more noble!—the artist helps run Mermaid Haberdashery, a splendid boutique in Ocean Grove, New Jersey. Much of the store is devoted to Miss Ellie NYC, the jewelry line created by John's uniquely talented wife, Ellie Mathias. Those near Ocean Grove would be wise to stop by the store sooner rather than later. In fact, head there between April 20 and April 22 and discover savings galore: Throughout the weekend, a 20% off sale extends to Miss Ellie NYC's collection as well as to vintage clothing, sunglasses, hats, and even original paintings by John Mathias himself. Hop in a car, let the city eat dust, admire the fabled Jersey Shore, and check out Mermaid Haberdashery today!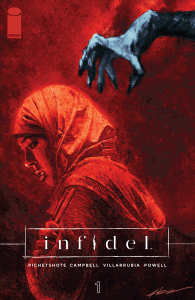 Here's an occasion worth braving a trip to a comic shop: the debut issue of Infidel, a remarkable new series published by Image Comics. Written by former Vertigo editor and longtime Lowbrow friend Pornsak Pichetshote, the comic also features the work of Aaron Campbell (artist), José Villarrubia (colorist and editor), and Jeff Powell (letterer and designer). Infidel is a horror series with its toes in the real world: Issue #1 follows its protagonist as she grapples with a meddlesome mother-in-law (scary!) who seems to harbor a possibly violent Islamophobia toward her daughter-in-law (even scarier!). Also, the family's building appears to be haunted. The comic is cast in lush, gloomy colors, both in pictures and words. Pichetshote's dialogue, always sharp, retains a perfect mix of naturalism and ambiguity, so that every character seems at once true-to-life and capable of a wide slate of deeds, whether in the service of good or evil. We eagerly await issue #2, due out this month. Hit up your local comic proprietor to seek out Infidel—or simply order it through Image.