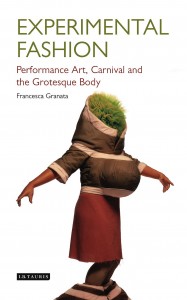 It is March, 2017! So naturally, the entire world is asking, "What is the book of the year? And of the decade?" Look no further for your answer! It is obviously Francesca Granata's Experimental Fashion: Performance Art, Carnival and the Grotesque Body, freshly published by I.B. Tauris and available in stores and mom-and-pop websites everywhere.
Are we biased? Perhaps! Granata, a Fashion Studies professor at Parsons and editor of the great periodical Fashion Projects, contributed to the very first Lowbrow Reader, back in 2001, and filed a lovely missive from an Italian silent film festival that appeared in issue #3 and the Lowbrow book. Also, she is married to the Lowbrow Reader's editor. But no matter—who are you to cite any alleged "conflict of interest" in our reporting? With a professorial grace, Experimental Fashion follows designers and performance artists working in the vanguard from the 1980s through the 2000s. The book explores such figures as the mighty performance artist Leigh Bowery, designers Rei Kawakubo and Martin Margiela, plus Lady Gaga, who—cough, cough—"borrowed" concepts and looks from her predecessors, introducing them to a mass audience of teeny boppers and Tony Bennett fanatics.
Buy the book today, in hard or soft cover! And for those in New York, check out Professor Granata's event on Thursday, March 16th at 6:30pm at the New School's Wollman Hall. The author will be in conversation with one of her book's subjects, German fashion designer Bernhard Willhelm, as well as Parsons postdoctoral fellow Charlene K. Lau.
We are thrilled to announce the arrival of our new issue, Lowbrow Reader #10. And what an issue! Featured inside are illustrations by David Berman, Drew Friedman, Gilbert Gottfried, and Jeffrey Lewis. Lowbrow hero Amy Heckerling spills the beans on Joseph Goebbels's secret diary. (Her article is pretty timely—sad!) The Velvet Underground's connection to the diabolic Steve Urkel is explored. Mel Brooks is discussed. What's not to love? Order the issue today via our handy ordering page.
Lowbrow #10 will set you back $4, shipping included. Still in doubt? Check out the Table of Contents: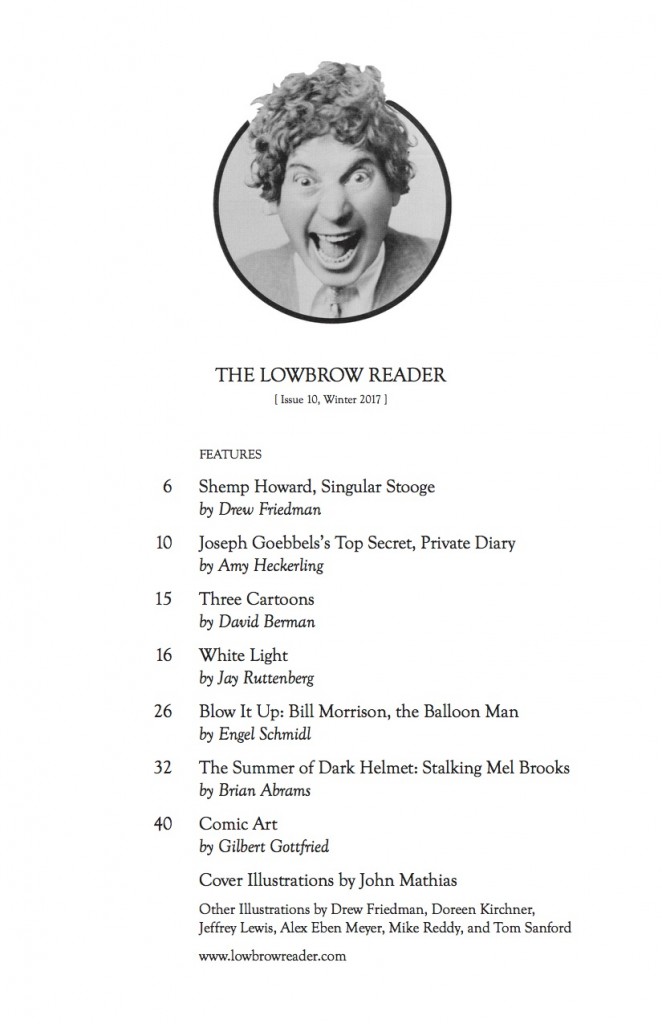 With the proliferation of intentionally phony news items on social media, it is increasingly difficult to know what information to trust. Here are some red flags tipping you off to fake news:
–Long-ago quotes attributed to a candidate in which he claims to be engaged in politics because his future constituents are "the dumbest group of dumb dummies ever to walk the earth" tend to be false, however true in nature they may seem. This is especially so when the quote in question is punctuated by "evil cackling."
–Rumors have spread claiming that certain athletic apparel companies have courted the endorsement of neo-Nazi organizations. Have you seen photographs of members of the alt-right fringe? Suffice to say, this is not a group that has spent significant time engaged in physical exercise. There is a reason they historically have favored loose-fitting robes.
–Anything involving "Hillary Clinton" is patently false. As we now know, there is no such thing as a "Hillary Clinton." Rather, the character was invented decades ago by dark right-wing forces, who for years cultivated their boogie woman in order to one day deliver the presidency to an ill-tempered game-show host, all so he can lower corporate taxes.
–It goes without saying that it is physically impossible for the Chicago Cubs to have won the World Series. Distrust any and all information claiming otherwise.
 "I just read a great biography of [The Replacements] called Trouble Boys, by Bob Mehr. One of my sons and I are trading it around since [he's] a huge Replacements fan—he actually lives in Minneapolis. It's a cool book, but it's also a sad book, because they all had their own demons from how they came up."—Tim Kaine, Rolling Stone

"I've been on a string of music books, so I read Elvis Costello's autobiography. I read this book by Bob Mehr—who worked for the Memphis Appeal—called Trouble Boys, about the Replacements, a band that I really love."
—Tim Kaine, The New Yorker
August 16, 2016
Just checking in. I'm assuming HRC didn't get to the playlist I sent over, as she made no mention of it when we spoke after the rally. I know she's busy this week, but if she has some time to listen, it would be really cool. I think it's important for people to understand where the 'Mats were coming from—they didn't just burst out of the gate with Let It Be. I know the first half of the playlist sounds fairly rough, especially the live bootlegs, where the band seems to be tied together with gossamer. But it pays off to listen all the way through.
One important thing: Note that I included three non-Replacements songs, which I think will help put the band in context. These are by Big Star, the New York Dolls, and (of course) Hüsker Dü.
The campaign is going well.
August 28, 2016
Thanks for sending the briefing books. As you mentioned, it's a ton of material—door stoppers for every room in the house—but debate prep is obviously important. Just so we're on the same page, I probably won't be able to dive into them for a week or so. I'm currently re-reading the Mehr book, which, naturally, sent me down a rabbit hole reading through a lot of his old stuff in the Appeal. Also—sorry to brag—a friend who works in publishing is getting me an advance copy of the Springsteen memoir. It's about 500 pages, so it goes without saying that you won't be hearing from me for a few days! (more…)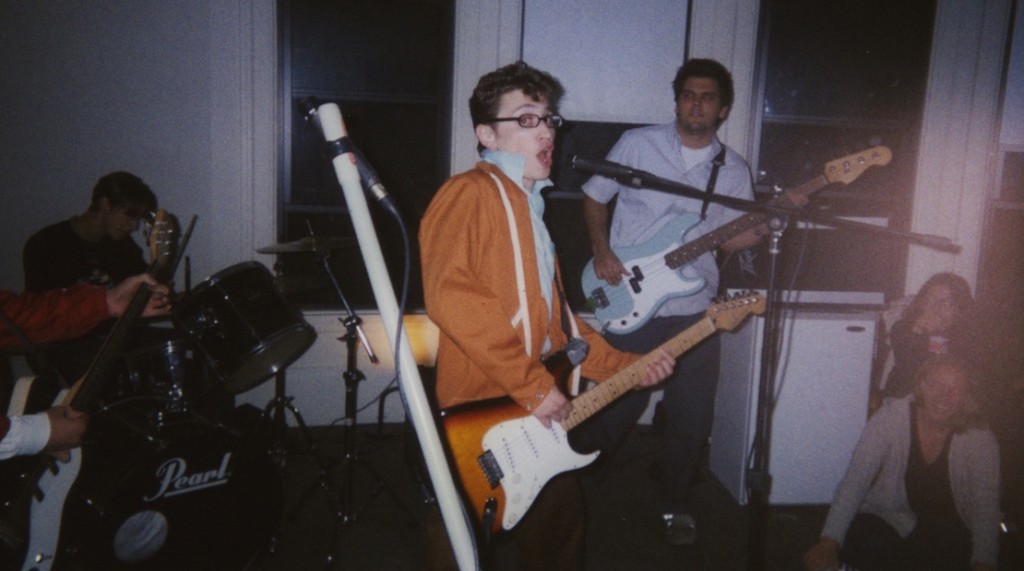 Jonathan Neuman was a charismatic Tufts University undergraduate fronting a roaring campus garage band, the Physicals, when, in 2000, he was diagnosed with leukemia. His life was cut short two years later. Johnny Physical Lives is a beautiful documentary about the musician's final years directed by Jonathan's brother Joshua Neuman—former editor of Heeb magazine and longtime Lowbrow friend. The film is presented as a love letter to and celebration of its subject and his more brazen rock & roll alter-ego, Johnny Physical, who continued to thrive as he was fighting cancer, even performing a bad-ass acoustic set at Memorial Sloan-Kettering Hospital. The movie is heartbreaking but never maudlin, mixing animation with archival footage—including a hospital-bed interview filmed by Albert Maysles, King of the Documentarians. At 22 minutes, this is a short film, one minute for each of its subject's years; yet by its end, you feel like you knew him all his life. "Jonathan Neuman died at the age of 22," the director's final voiceover concludes. "But Johnny Physical will live forever."
Those in New York are encouraged to catch Johnny Physical Lives's local premiere on Monday, November 14 at the IFC Center, where it is screening as part of Doc NYC's Shorts: L-O-V-E program. For more information, go to johnnyphysicallives.com.
Michael Chandler (Cincinnati, Ohio)
Reviewer: Big Ed's Diner
***
In general, Michael is a pretty good customer. He comes in like clockwork at 1:30pm, roughly three days a week. He always sits at the counter and is polite, if not talkative. One annoying thing: We have a really broad menu, but Michael always orders a tuna melt sandwich. He's never even tried anything else. It seems narrow-minded. How does he know that the tuna melt is not the worst thing on our menu? (It's down there.) Also, while Michael's sanitation is up to code, it is hardly ideal.
Reviewer: Lincoln Movers
*
We arrived at Michael's apartment to find an absolute mess. About two-thirds of his stuff was in boxes, but the rest of his crap was just scattered around the floor, as if he had started preparing for the move the previous day and then got lazy. So we had to essentially pack for him, which added at least an hour to the job. Once we started loading his boxes onto the truck, Michael made a feeble attempt to help, which proved distracting. Just by looking at him, it's obvious that this is a guy who can barely lift a dictionary. Not surprisingly, when the bill came, he made a big stink and claimed he was being overcharged. Which is ridiculous. Movers would never do that—it goes against every ethic of our profession.
Reviewer: Coffee Connection
**
Michael is an amazingly gracious customer and generous tipper—so long as an attractive woman is working the counter. (more…)
The fall art season has officially landed in New York, bringing with it the city's annual shortage of cheese, wine, and tight-fitting black garments. But of the seemingly endless parade of exhibitions, there is but one that demands your presence: Jackie Gendel at Thomas Erben Gallery. Gendel's first solo show with the gallery, the exhibition features new paintings large and small, divergent in tone and style. Is there a clunker in this crew? Hell no!
Sharp-eyed readers of The Lowbrow Reader have admired Gendel's work for years, namely her renderings of Saints Lou and Ali, both created before the subjects passed on. (Both are included in The Lowbrow Reader Reader book.) Now you get a chance to take home a Gendel original, hang it on the wall, watch as her market value soars, and sell the painting to a wealthy arts benefactor, allowing him to store it in a windowless, climate-controlled Swiss vault. Or you can simply head to Thomas Erben Gallery in Chelsea and admire the paintings. The show runs through October 29.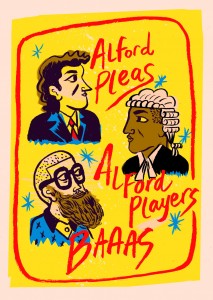 For a few years, owners of Lowbrow Reader issues #8 and #9 have known about the Musicians You Should Know series, illustrated by longtime Lowbrow contributor Mike Reddy and written by Lowbrow editor Jay Ruttenberg. But for those souls trapped in the realm of the Internet, 2016 has brought with it the Musicians' unveiling care of http://musiciansyoushouldknow.tumblr.com. Each week, the Tumblr account introduces a new musician via a biography and portrait. Thus far, fortunate Tumblr-rs have learned of such previously unexplored artists as Peruvian panpipe master Paco Huamán, surly children's entertainer Sweet Uncle Rick, and the Bushwick-Alford Afrobeat All-Stars, (pictured).
Quite frankly, we consider Musicians You Should Know the only relevant music source currently available. But maybe we're biased! So take it from other, far more respectable publications that have been kind enough to cover Musicians You Should Know, including Death and Taxes and Oxford American. Or just check the stupid thing out for yourself, updated (almost) weekly at http://musiciansyoushouldknow.tumblr.com.