Courtroom Sketches from the El Chapo Trial
—The court hears testimony from —- —, the IT aid who betrayed El Chapo's hard-won trust to federal agents representing six separate countries. To protect his identity, the tech guy's voice is altered to sound like Jerry Seinfeld. Over his head, he wears a brown paper grocery bag, which covers a ski mask, which covers his face, which a plastic surgeon has permanently rendered into an electric blur.
—The mistresses testify for the prosecution.

—Diagrams are displayed depicting El Chapo's daring escape after he was cornered, unarmed and nude, by an elite team of D.E.A. agents. Famously, the kingpin deployed a liquid-powered jetpack to transport him to his awaiting rocket ship—stocked with fuel, rations of astronaut caviar, and the San Luis Fútbol Club—and blasted off to Mars.
—The court hears from Lautaro, the prize lion from the drug lord's subterranean zoo. The beast tearfully recounts how El Chapo got him hooked on an 18-gram-per-day cocaine habit that culminated when Lautaro, desperate to satisfy his insatiable craving, ate a hophead telenovela starlet.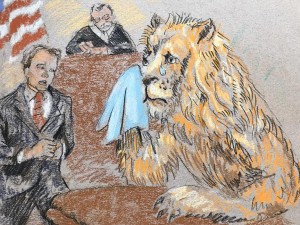 —Moments after being sentenced to 9,864 consecutive years in a maximum security penitentiary, El Chapo suddenly disintegrates into dust particles, reconstituting himself in the penthouse suite of Playa del Carmen's most exclusive hotel.