Easy Money at Alamo Drafthouse Cinema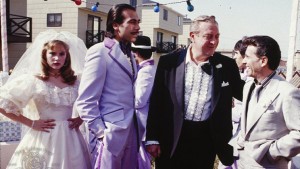 A highlight of Lowbrow Reader #9 was Taylor Negron's "My Name Is Julio: I'm So Bad, I Should Be in Detention," an impressionistic essay about the author's experience costarring in the Rodney Dangerfield film Easy Money. The article was published in 2014, a year before Negron's death. Easy Money remains among our favorite performances by this Lowbrow friend and contributor. So it gives us great pleasure to host a screening of the movie at Brooklyn's Alamo Drafthouse Cinema on Wednesday, August 30. The movie, which screens in ravishing 35mm, will be introduced by Lowbrow editor Jay Ruttenberg, reading from Negron's piece.
Easy Money comes second in the holy trinity of Rodney Dangerfield films, sandwiched between Caddyshack and Back to School and, thus, forever in the shadow of those movies. Yet Easy Money is a work of no small charms. Released in 1983—everything about the movie, in fact, screams 1983—it features Dangerfield wheeling around Staten Island in a stoned daze alongside Joe Pesci, struggling to curb his gluttonous ways in order to collect from the will of his dreaded mother-in-law. It's a rip-roaring turn from Dangerfield that cuts closer to the comic's reputation than his subsequent, PG-friendly work. Fashionistas will want to keep an eye out for Rodney's big men's wear collection scene—a true show stopper. But our favorite part of Easy Money, of course, remains the pitch-perfect performance of Taylor, portraying Dangerfield's Puerto Rican son-in-law.
Tickets are $10—a steal!—and available at drafthouse.com.