Experimental Fashion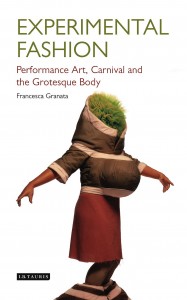 It is March, 2017! So naturally, the entire world is asking, "What is the book of the year? And of the decade?" Look no further for your answer! It is obviously Francesca Granata's Experimental Fashion: Performance Art, Carnival and the Grotesque Body, freshly published by I.B. Tauris and available in stores and mom-and-pop websites everywhere.
Are we biased? Perhaps! Granata, a Fashion Studies professor at Parsons and editor of the great periodical Fashion Projects, contributed to the very first Lowbrow Reader, back in 2001, and filed a lovely missive from an Italian silent film festival that appeared in issue #3 and the Lowbrow book. Also, she is married to the Lowbrow Reader's editor. But no matter—who are you to cite any alleged "conflict of interest" in our reporting? With a professorial grace, Experimental Fashion follows designers and performance artists working in the vanguard from the 1980s through the 2000s. The book explores such figures as the mighty performance artist Leigh Bowery, designers Rei Kawakubo and Martin Margiela, plus Lady Gaga, who—cough, cough—"borrowed" concepts and looks from her predecessors, introducing them to a mass audience of teeny boppers and Tony Bennett fanatics.
Buy the book today, in hard or soft cover! And for those in New York, check out Professor Granata's event on Thursday, March 16th at 6:30pm at the New School's Wollman Hall. The author will be in conversation with one of her book's subjects, German fashion designer Bernhard Willhelm, as well as Parsons postdoctoral fellow Charlene K. Lau.