Fifteen INSANE Things You Must Know About Back to the Future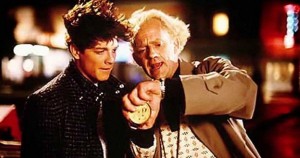 Back to the Future stars Michael J. Fox as Marty McFly. The actor was cast after the original Marty, Eric Stoltz, was fired.
While Michael J. Fox is Canadian, his character resides in the state of California.
Doc Brown built a time machine from a DeLorean. The DeLorean Motor Company filed for bankruptcy in 1982—three full years before the movie's release.
One actor to turn down the role of Marty was Ralph Macchio—better known to movie fans as the Karate Kid!
We see that you continue to click your mouse, trapped in our inane grip. Admire these ads while knowing that you are powerless to cease reading.
And still, you remain.
The action in Back to the Future predates the Internet. Yet one can safely assume that none of the characters in the film—even Marty's imbecile brother who, if you must know, works at Burger King—would squander the gift of life wading through a list such as this.
Understand that no man who has clicked this far has ever experienced a productive day of work or chore. Not just on the day he reads this, but on any day of his life. (Needless to say, no woman has ever clicked this far.)
You long for another morsel of trivia? Fine: In the movie, Marty wears a red vest. Now, let us note that you are of feeble mind and weak character; you lack substance and hate yourself for it.
If you have any semblance of family, your neglect swells with every click of the mouse. Your children's lives will amount to nothing. If you lack intimates, you deserve a continued existence of lowly solitude.
The '80s popster Huey Lewis, whose anthem "Power of Love" features prominently in Back to the Future, initially balked at penning music for the movie. Now, here's a question: Does gaining this knowledge, at the expense of filling your modest brain with something else, make you feel better or worse about your continued existence on earth?
Know that Crispin Glover, who played George McFly in the original Back to the Future, neglected to reprise his iconic role for the movie's two sequels. Also know that if you click any further, possession of your soul will be irreversibly transferred to Satan, Lord of the Underworld.
Consider this page your final warning.
It is I, Satan, your new master and, of course, the writer of this and all such lists. Henceforth, your hollow soul will rest with me through eternity. When your fruitless time on earth expires, you will join your fellow damned, wallowing in the everlasting flame of Hades.
Once in Hell, you are free to explore those matters that you found so consequential during your precious years of being—say, how Thomas F. Wilson, who portrayed bully Biff Tannen in all three Back to the Future films, was drum major of his high-school marching band. He also played the tuba.