Jeffrey Lewis's Manhattan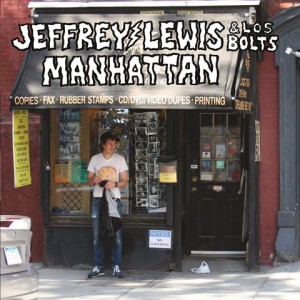 For years, one of New York's mighty artistically restless souls has been Jeffrey Lewis, a musician and comic-book creator whose mediums often clash together in fiery ways. A few years back, Lewis headlined a Lowbrow Reader Variety Hour show at the Housing Works Bookstore—if memory serves, his set included an a cappella rap about murdering a mosquito plus an excerpt from his "History of Communism" series, in which he accompanies his singing with drawings. He is highly prolific, publishing the comic book Fuff, cutting records with the great NYC folkie (and fellow Lowbrow Reader Variety Hour veteran) Peter Stampfel, and self-releasing minor-key CDs in those years without officially sanctioned Jeff Lewis albums.
This month sees the release of one of the more proper Lewis albums, Manhattan, which Rough Trade will unveil at the end of this week. Credited to Jeffrey Lewis & Los Bolts, the album is, not surprisingly, very smart, very fun, and very New York. Songs explore an East Village hoodlum who bullied the singer in his youth and continues to haunt the neighborhood, a noisy neighbor, a girlfriend on vacation. The funniest? Why that would be "The Pigeon," a Borscht Belt take on Poe's "The Raven"—Lou Reed's version apparently being deemed insufficiently Jewish. Quoth the pigeon "Bubkes"!
Those in New York can celebrate Manhattan's release tonight, October 27, at Le Poisson Rouge, where Lewis & Los Bolts star in a show that also features Hamell on Trial and Crazy & the Brains. In the club's gallery space, roughly 1,500 sketchbook pages of Lewis's art will be on display. Now, will some art book publisher please put together a collection of Lewis's sketchbooks, flyers and whatnot?