Me and Lee—The Musical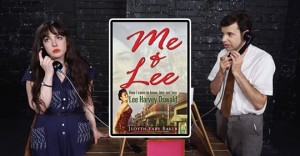 With Bob Dylan's new single "Murder Most Foul" rocketing to the top of the Billboard chart, all of America's youth are wondering: Who was this JFK guy? What the hell happened to him in Dallas? And wait a second, why would anybody voluntarily go to Dallas in the first place?
Rushing to fill the informational void is Me and Lee—The Musical, a filmed version of the stage musical by longtime Lowbrow friend Jason Trachtenburg. The production is an adaptation of the book Me & Lee: How I Came to Know, Love and Lose Lee Harvey Oswald by Judyth Vary Baker, who recounts a romantic entanglement with the notoriously dreamy Oswald, America's sweetheart himself. Look, the only American conspiracy we want investigated is why it took so long for Rodney Dangerfied's star to ascend, okay? But we adore Trachtenburg and his wondrous way around a melody. In the musical, the playwright himself sharply portrays Oswald, even slipping into Russian. And his music, not shockingly, is winning: Hum along with the cast as they sing Trachtenburg's sweet songs of love and LHO! Stay home, wash your filthy hands, and watch Me and Lee—The Musical. The whole darn thing is streaming on YouTube—check it out!