Musicians You Should Know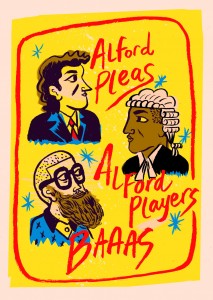 For a few years, owners of Lowbrow Reader issues #8 and #9 have known about the Musicians You Should Know series, illustrated by longtime Lowbrow contributor Mike Reddy and written by Lowbrow editor Jay Ruttenberg. But for those souls trapped in the realm of the Internet, 2016 has brought with it the Musicians' unveiling care of http://musiciansyoushouldknow.tumblr.com. Each week, the Tumblr account introduces a new musician via a biography and portrait. Thus far, fortunate Tumblr-rs have learned of such previously unexplored artists as Peruvian panpipe master Paco Huamán, surly children's entertainer Sweet Uncle Rick, and the Bushwick-Alford Afrobeat All-Stars, (pictured).
Quite frankly, we consider Musicians You Should Know the only relevant music source currently available. But maybe we're biased! So take it from other, far more respectable publications that have been kind enough to cover Musicians You Should Know, including Death and Taxes and Oxford American. Or just check the stupid thing out for yourself, updated (almost) weekly at http://musiciansyoushouldknow.tumblr.com.