MYSK @ Academy Records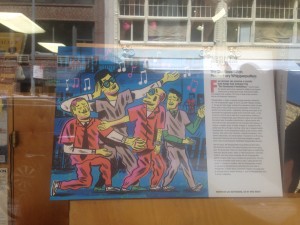 While 2018 will not bring with it a new Lowbrow Reader issue—we work slowly, okay?—readers in New York can get a fix with a simple stroll down West 18th Street. For there lies the great Academy Records, and in the store's display window, alongside assorted records and CDs, is a rotating display of Musicians You Should Know, illustrated by longtime Lowbrow contributor Mike Reddy with writing by editor Jay Ruttenberg.
The series, which originated in LBR #8, features (gorgeous!) illustrations of nonexistent bands alongside (hilarious!) biographies of said musicians. Every month, the window display turns a page to include a new act—some previously featured in Lowbrow, some in other publications or websites, and some exclusive to the Academy window audience. Check out this month's display, featuring the Old Greenwich Penitentiary Whipperpuffers, an a cappella group from a white collar prison. And while you're there, duck into Academy and treat yourself to a record!