On Newsstands Now! Fashion Projects #4!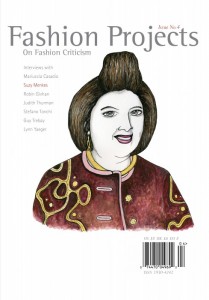 We are kvelling over the unveiling of the new issue of Fashion Projects, the fancy sister publication of The Lowbrow Reader. The issue, the journal's fourth, is devoted entirely to the subject of fashion criticism. It features interviews with some swank individuals, including International Herald Tribune critic Suzy Menkes, W editor Stefano Tonchi, The New Yorker's Judith Thurman, and New York Times culture writer Guy Trebay. Fashion Projects is edited by Lowbrow Reader contributor Francesca Granata; issue #4 includes work by Lowbrow editor Jay Ruttenberg as well as Lowbrow artists Nathan Gelgud and Doreen Kirchner, who drew the lovely cover image. How's that for crossover? The two publications even share a home: PO Box 65 at the East Village's Cooper Station post office. (It's roomier than you might think in there.)
Run, don't walk! Order Fashion Projects today!