Talkingstick at the Rubin Museum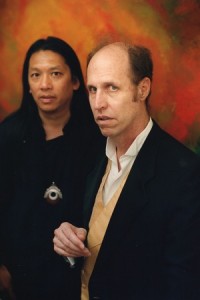 For the past decade, one of the most reliably odd, enriching New York nights has been Talkingstick, a monthly series at Chelsea's Rubin Museum of Art. The event, presented for free on the second Friday of each month, features a rotating crew of enlightened miscreants orating on various topics, loosely inspired by the museum's Tibetan and Himalayan art. The shows occur in the Rubin's galleries with audience members sitting cross-legged on the floor, amidst the museum's ferocious masks and lurid paintings. As prescribed by Talkingstick founders Mr. Patrick and Master Lee plus producer Jesse Paris Smith, there is occasional music (say, Lowbrow Reader Variety Show alum Larkin Grimm), poetry (Anne Waldman), curators, and, especially, the mysterious spots in between. Month after month, a special treat comes from performances by the two hosts: Master Lee, a former street comic and juggler who delivers a stream-of-consciousness blend of standup and mysticism; and Mr. Patrick, who tells precisely detailed, fantastic yet factual tales while accompanying himself on a Chinese harp known as a guzheng.
Alas, after ten strong years, Talkingstick will be leaving its spot at the Rubin Museum, at least as a regular series. We suspect it will land at a new home soon. Regardless, it's not too late to check out the show at the museum: On Friday, September 11th, the Rubin Museum hosts one final Talkingstick, beginning at 8:30pm. The night will feature appearances by Mr. Patrick and Master Lee plus the musician Michael Campbell, Lowbrow editor Jay Ruttenberg, and other yet-to-be-announced guests. Check it out—it's free. That means if it got any cheaper, you would be paid to attend!
[Update: A final final Talkingstick at the Rubin Museum has been scheduled for December 18.]