The Howling Hex's Denver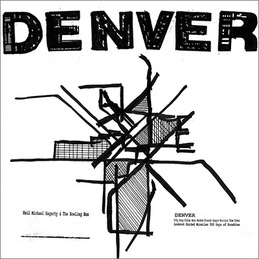 One of the Lowbrow Reader's earliest contributors was Neil Michael Hagerty, whose blockbuster essay about CARtoons Magazine appeared in our very first issue, back in 2001. For better or for worse, his essay helped set the map for the idiocy that would unfold over the years. Page through our non–award-winning, non–best-selling Lowbrow Reader Reader book anthology, and discover Mr. Hagerty eloquently sounding off on a raft of funny subjects, from clowns to Wings and from Lou Reed to Don Knotts. The man is prolific, his interests catholic!
Of course, Hagerty's main gig has long been that of mind-bending guitarist; at present, he is ripping up old Europe with his mighty band, the Howling Hex. Those not blessed with May vacations in Oslo or Aarhus, however, can still check out new sounds from the Hex. Denver, the band's latest LP, came out last month from Drag City; hustle down to Other Music before it's a nail salon! And check out this teaser, "Mountain," with a video directed by Fred Armisen: deep-thinking funnyman, Stern superfan, probable workaholic. Dig it!