The Show Won't Go On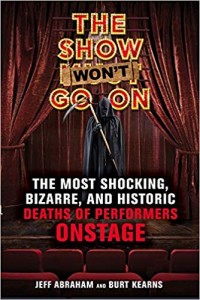 Here's a book to dig! The Show Won't Go On: The Most Shocking, Bizarre, and Historic Deaths of Performers Onstage, which was written by Lowbrow friends Jeff Abraham and Burt Kearns and has been newly published by Chicago Review Press. In gory detail and with no small amount of black humor, the book recounts those surprisingly numerous moments when a performer gets onstage and never comes off, reaching his end before a horrified crowd.
The well-researched book includes chapters on performers of all ilk, be they doomed singers, magicians, or, of course, comedians, including the notorious Friars Club death of Harry Einstein (father of Albert Brooks and Super Dave Osborne). All are handled with grace. What might have proved grim or exploitative turns celebratory, as the authors examine the careers of largely obscure artists united in misfortune. For instance: Dick Shawn, an uncorked comedian (he played Lorenzo Saint DuBois in The Producers) whose heart failed during a climactic moment of his one-man show. "The whole time he's lying there, the audience is still there," the comic's son recounts in the book. "And there were people that wanted their money back." Learn all about Shawn, Einstein, and others in their woebegone fraternity. Buy The Show Won't Go On today!