Welcoming Purple Mountains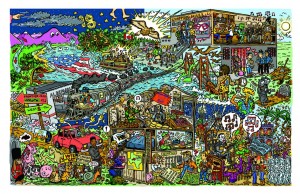 If you have read The Lowbrow Reader you surely have admired the mind-bending cartoons of all-star contributor David Berman. Yet like many, we first encountered the artist through his songs: Namely his near-perfect recording project the Silver Jews, which he laid to rest about a decade back. But congratulations! You have successfully waited out Mr. Berman's musical retirement: Earlier this month, he unveiled a new band, Purple Mountains, whose self-titled album comes out on Drag City in July. For now, feast on the knockout first glimpse, "All My Happiness Is Gone"—rarely have we been so happy to be this sad. Order Purple Mountains through Drag City, where you can also pick up a new hardcover edition of Berman's poetry book, Actual Air, plus his book of cartoons, The Portable February.
But how else to celebrate Mr. Berman's return to music? Easy! Cover your wall in "SilverJewsLand." With MAD magazine splendor, the brand new poster (above, in miniature), illustrates over 75 Berman songs. And the artist? None other than Jeffrey Lewis—who, like Berman, is a polymathic singer, songwriter, cartoonist, and Lowbrow Reader contributor! Buy a copy of the poster through Lewis's website today, and watch for both Lewis and Berman on tour in the months ahead.