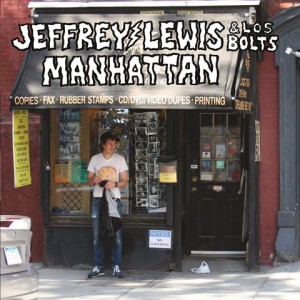 For years, one of New York's mighty artistically restless souls has been Jeffrey Lewis, a musician and comic-book creator whose mediums often clash together in fiery ways. A few years back, Lewis headlined a Lowbrow Reader Variety Hour show at the Housing Works Bookstore—if memory serves, his set included an a cappella rap about murdering a mosquito plus an excerpt from his "History of Communism" series, in which he accompanies his singing with drawings. He is highly prolific, publishing the comic book Fuff, cutting records with the great NYC folkie (and fellow Lowbrow Reader Variety Hour veteran) Peter Stampfel, and self-releasing minor-key CDs in those years without officially sanctioned Jeff Lewis albums.
This month sees the release of one of the more proper Lewis albums, Manhattan, which Rough Trade will unveil at the end of this week. Credited to Jeffrey Lewis & Los Bolts, the album is, not surprisingly, very smart, very fun, and very New York. Songs explore an East Village hoodlum who bullied the singer in his youth and continues to haunt the neighborhood, a noisy neighbor, a girlfriend on vacation. The funniest? Why that would be "The Pigeon," a Borscht Belt take on Poe's "The Raven"—Lou Reed's version apparently being deemed insufficiently Jewish. Quoth the pigeon "Bubkes"!
Those in New York can celebrate Manhattan's release tonight, October 27, at Le Poisson Rouge, where Lewis & Los Bolts star in a show that also features Hamell on Trial and Crazy & the Brains. In the club's gallery space, roughly 1,500 sketchbook pages of Lewis's art will be on display. Now, will some art book publisher please put together a collection of Lewis's sketchbooks, flyers and whatnot?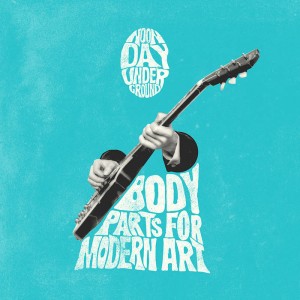 What was the most undervalued band of the '00s? Ah, who the hell knows! But here's one strong candidate: The Noonday Underground, an enigmatic British act that took its first breaths in 2000 with the album Self-Assembly. Noonday was at once years ahead of its time—predating likeminded work by Mark Ronson and the Go! Team—and also decades behind, its every note playing like some wondrous scene from cinematic swinging London. Starring the producer Simon Dine and singer Daisy Martey, Noonday Underground has been a nearly invisible live presence and, for the past five years, has been absent on record, as well.
No more! A few weeks back, the band unveiled Body Parts for Modern Art, a 27-song album available through the Tokyo label Stubbie Records. Technically, this is a collection of odds-and-ends, with material "recorded in London, England during the late nineties & early noughties." Bless our ears, but little here sounds short of A-game. The album comes divided into three parts: The first features tracks with Martey, a singer blessed with Bassey pipes and London cool; the second includes short instrumentals, cut-and-pasted from the bargain bin records that are this band's bread and butter; and the third presents work Dine completed for his pre-Noonday gig, Adventures in Stereo. "Let's go out and get arrested," Martey sings in "Faster Than the Fastest Thing." Indeed! Check out the album today. In fact, those in New York can head straight to the Lowbrow Reader's favored retailer, Other Music…and maybe even pick up a copy of Lowbrow #9 while there!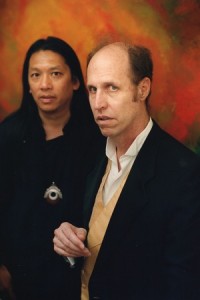 For the past decade, one of the most reliably odd, enriching New York nights has been Talkingstick, a monthly series at Chelsea's Rubin Museum of Art. The event, presented for free on the second Friday of each month, features a rotating crew of enlightened miscreants orating on various topics, loosely inspired by the museum's Tibetan and Himalayan art. The shows occur in the Rubin's galleries with audience members sitting cross-legged on the floor, amidst the museum's ferocious masks and lurid paintings. As prescribed by Talkingstick founders Mr. Patrick and Master Lee plus producer Jesse Paris Smith, there is occasional music (say, Lowbrow Reader Variety Show alum Larkin Grimm), poetry (Anne Waldman), curators, and, especially, the mysterious spots in between. Month after month, a special treat comes from performances by the two hosts: Master Lee, a former street comic and juggler who delivers a stream-of-consciousness blend of standup and mysticism; and Mr. Patrick, who tells precisely detailed, fantastic yet factual tales while accompanying himself on a Chinese harp known as a guzheng.
Alas, after ten strong years, Talkingstick will be leaving its spot at the Rubin Museum, at least as a regular series. We suspect it will land at a new home soon. Regardless, it's not too late to check out the show at the museum: On Friday, September 11th, the Rubin Museum hosts one final Talkingstick, beginning at 8:30pm. The night will feature appearances by Mr. Patrick and Master Lee plus the musician Michael Campbell, Lowbrow editor Jay Ruttenberg, and other yet-to-be-announced guests. Check it out—it's free. That means if it got any cheaper, you would be paid to attend!
[Update: A final final Talkingstick at the Rubin Museum has been scheduled for December 18.]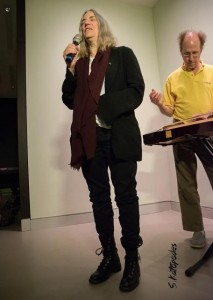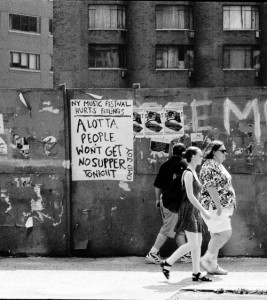 When The Lowbrow Reader was in its infancy at the dawn of the '00s, we turned to a slew of heroes that, in the years to come, the Lowbrow would praise, pester, and mimic: Adam Sandler, Howard Stern, Mad magazine, etc…. But there were tacit muses, as well, including Camden Joy—a dynamite writer (and longtime friend) who maintained a sphinxlike presence within '90s rock criticism. Where others were filing capsule reviews in the pages of weekly newspapers, Joy was scribbling wild rants on city walls and weaving novels around real-life indie-rock figures. In a series of postering projects, he surreptitiously wheat-pasted ravishing fliers throughout the streets of Manhattan, targeting music festivals (CMJ) and dormant bands (Souled American) through manic essays, short stories and bursts of poetry. His novels, beginning with 1998's The Last Rock Star Book, or Liz Phair: A Rant blended fiction and Bangsian music criticism.
Joy's work was prescient, anticipating a literary landscape populated by grumpy indie-rock stars, not to mention highbrow graffiti art that employs the streets of New York as museum walls. Yet over the past decade, much of the writer's work slipped out of print. Never fear: This historic wrong is being righted! This month, Verse Chorus Press—a lovely Portland, Oregon, publishing house whose very first title was Joy's Liz Phair novel—begins an ambitious series of reissues. It kicks off with the freshly republished Lost Joy, an anthology of the author's shorter pieces that was originally issued in 2002 by TNI Books. Presented with a new introduction by Jonathan Lethem, Lost Joy collects many of the street poster manifestoes as well as work that appeared in more conventional publications, including Puncture, The Village Voice, and Chicago Reader. "How can Joy be Lost?" Lethem concludes in his introduction. "Joy is right here." Indeed! Pick up the book today!
What is that mist clouding television sets and computer monitors nationwide? We're not quite sure, but we suspect it has something to do with the recent DVD release of High There, a wild nonfiction film comedy produced by Lowbrow friend Burt Kearns. The movie was directed by its costars Henry Goren and Wayne Darwen—the latter a tabloid TV forefather who was an inspiration for Robert Downey Jr.'s Natural Born Killers character. A few years ago, the pair traveled to Hawaii intending to shoot a television travel show about smoking marijuana in America's coolest state. They soon ended up entangled in a Pynchon-noirish plot involving the government, the drug trade, and the jailing of a local marijuana advocate. Darwen and Goren went deep into the story, even adopting the greenish alter egos Dave High and Roland Jointz. Check out High There on your movie-viewing device of choice today—and dig the groovy preview, below.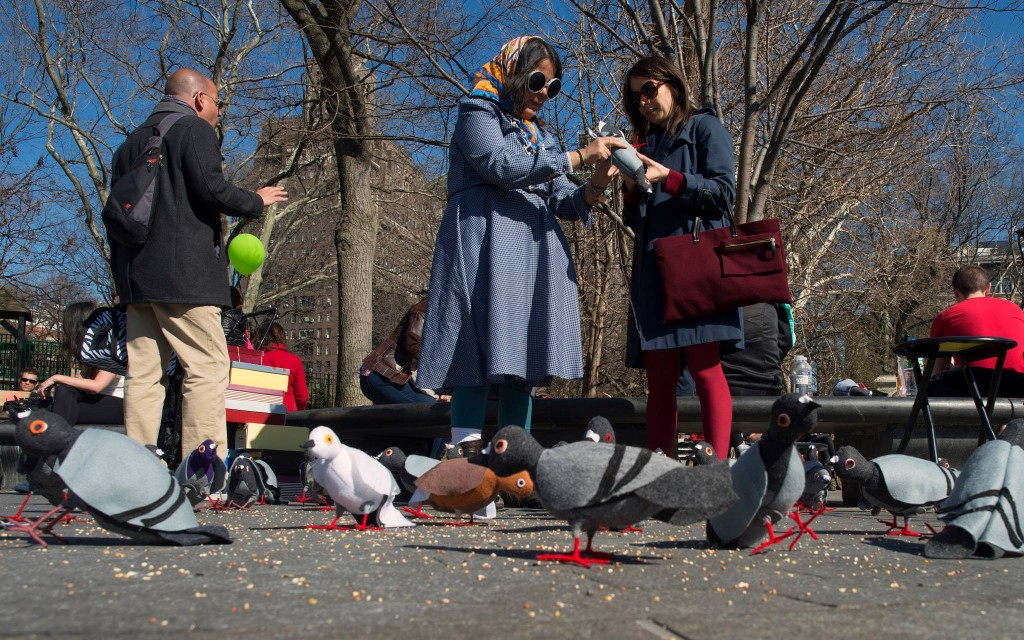 Temperate weather in New York brings a litany of pleasures: engaging clipboard-wielding charity solicitors in long conversations about how you do not have any money to give them; shadowing tourists through Central Park at a creepy yet legal distance; tossing water balloons at sharp-tailored businessmen en route to their important meetings and trysts. The fun keeps coming.
In recent years, a major amusement has come in the form of the "Flashflock" installations presented around town by longtime artist, New Yorker, and Lowbrow friend Tina Pina Trachtenburg. If you pass through Washington Square Park or Union Square on sunny days, you have likely stumbled upon Trachtenburg's awing displays, which feature dozens of her beautiful soft sculptures of pigeons and, occasionally, other birds. At times, actual pigeons join the flock, delighting children and confounding dogs. Trachtenburg hand-crafts her sculptures from acrylic felt, using recycled clothing for stuffing. The pigeons are available for purchase both at the installations and through the artist's website, motherpigeon.com. Dare we say a home is not a home until it features a Tina Trachtenburg pigeon? Yes we do!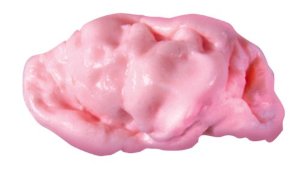 Airline magazine with its crossword puzzle filled out thrice over, each time incorrectly
Every type of gum ever manufactured, aggressively chewed
Tissues hosting new strains of the flu, rubella, leprosy, the bubonic plague, and an as-yet-unnamed disease tied to donkey manure
Barf bag, gently used
Decade-old safety card, never read, depicting passengers maniacally fleeing a plane crash's fiery flames
One decapitated head (human)
Amelia Earhart's long-lost boarding pass
Two diapers, adult sized, soiled
Catalogue of dubious inventions that the airline requests passengers not examine until they are mentally weakened from combination of high altitude, cabin fever, and multiple Bloody Mary cocktails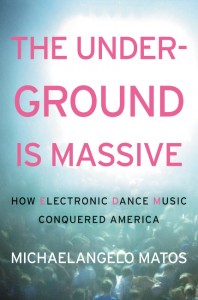 Back in 2002, the talented music critic Michaelangelo Matos profiled Slim Gaillard for Lowbrow Reader #2. (The article was later reprinted in The Lowbrow Reader Reader.) Apparently, tastes have changed in the ensuing 13 years: No longer do the world's youth sway as one to the sounds of Gaillard. In McVouty's place stand enthusiastic genii of Electronic Dance Music. Who will shed light on this mysterious music, with its thumping beats and exotic drugs?
How about…Michaelangelo Matos! The writer, a frequent Lowbrow contributor in our early years, started writing with passion and verve about the genre long before most grown-ups even considered it a genre. This week, HarperCollins imprint Dey Street Books unveils The Underground Is Massive: How Electronic Dance Music Conquered America, Matos's 448-page account of the '00s dance-floor phenomenon. The author guides readers from EDM's roots in techno and rave culture through the present day, when star DJs earn roughly the same in a single night as the average American takes home during an entire calendar year, provided that the average American happens to play for the NBA. Learn the truth behind the beats. Check out The Underground Is Massive today!
It's a kind of furious pride, very passionate and stern.
—Gilead
 He studied her face. "You're furious."
"That's right."
—Home
 The life she'd decided she would never have was there the whole time, trapped and furious, and in that minute she knew that if a man she ought to hate said one kind word to her, there was no telling what she might do.
—Lila
The latest cinematic installment of this blockbuster series will not disappoint fans of the earlier two, and as usual, the team behind the previous adaptations of Marilynne Robinson's prize-winning novels have hewn closely to the book and also made the film their own, with thrilling results.
Set again in the small farming town of Gilead, Iowa, among the clerical Boughton and Ames families, Lila: Trés Furious, finds the title character (Michelle Rodriguez) wed to the much older widower Rev. John Ames (Duane "The Rock" Johnson). Lila's past is something of a mystery, and I don't think it's much of a spoiler, given the previous films, to say that as the truth of her history unfolds, the characters hop into various modified stock vehicles and undertake numerous cross-county chases through corn fields, wheat fields and cow pastures. Viewers who know the franchise will expect the resulting carnage, high-speed crashes (with stunning CGI affects), and meditations on the nature of grace, shame and predestination. (more…)
Happy April Fool's Day, for those celebrating. Frankly, it's not really our cup of tea. Last year, however, representatives of The Lowbrow Reader took part in the day's festivities. Namely, Lowbrow contributor Phillip Niemeyer and editor Jay Ruttenberg published a chart in The Boston Globe's op-ed page examining a century of humor, beginning with Charlie Chaplin himself. How about an encore performance? Here is the chart, straight from the august pages of the Globe.